Prime Minister David Cameron believes former London Mayor Boris Johnson is in pole position to succeed him as Prime Minister, if a leadership election takes place before 2019. The claim comes as the former London mayor finds himself under growing criticism after claiming the EU is trying to create a superstate just like Hitler.
Cameron is keen to see Chancellor George Osborne take over from him, but fears this could be impossible given growing discontent between the Remain and Leave ranks with in the Conservative party ahead of the EU referendum on 23 June.
One source - who held discussions with Cameron about the Tory leadership in the past two weeks - told The Times: "He [Cameron] said that he thinks his successor would be a Brexiteer and that George had a lot of ground to make up."
A ComRes poll for the Independent revealed that twice as many voters think that Johnson (45%) is "more likely to tell the truth about the EU" than Cameron (21%). Over the weekend, Ukip leader Nigel Farage backed Johnson to take over from Cameron if British voters choose to leave the EU and he branded the prime minister "lying, devious and cowardly".
Farage said of Johnson: "I love Boris, respect him, admire him; I'm a Boris fan. Could I work for him? Yes. Could I see a scenario if he was PM and he asked me to do something? I wouldn't rule it out."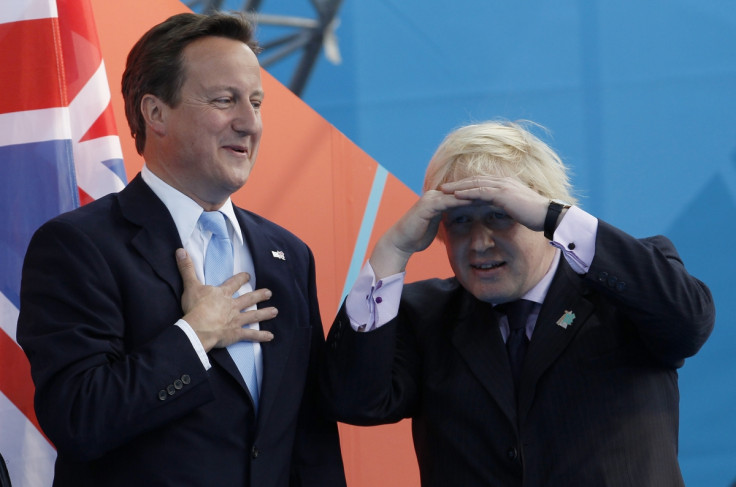 Johnson has come under heavy fire from Tory MPs, for claiming the EU is chasing a similar objective to Hitler by trying to create a political superstate in Europe. "Napoleon, Hitler, various people tried this out, and it ends tragically," he said. "The EU is an attempt to do this by different methods."
Nicholas Soames, MP for Mid Sussex and the grandson of Winston Churchill, slammed Johnson, saying he had "gone too far". Conservative MP for Brentwood and Ongar, Sir Eric Pickles, said: If the last few weeks tell us anything: it is rarely a help to mention Hitler in support of an argument by an ex-mayor of London."
Cameron believes that he now has to give Johnson a top Cabinet position in the next reshuffle to prove himself. "Only three people can do my job: George, Boris and Theresa [May]," the prime minister reportedly told a colleague.
As Tory tensions over the referendum campaign rise, Cameron is said to be "furious" at Justice Secretary Michael Gove's combative Brexit position. Osborne has reportedly been playing mediator by holding regular dinners with Gove and is said to have told him: "The conveyor belt [of the campaign] will take you further and further away from us."
Despite the apparent acrimony in Conservative ranks, one Number 10 source downplayed the notion of a total breakdown in relations between Gove and Cameron, pointing out that the justice secretary still helps the prime minister prepare for the weekly Commons debate.
The Downing Street source said: "No one's going to deny it makes things a bit more challenging but if things were that bad he [Gove] wouldn't come to PMQs prep."