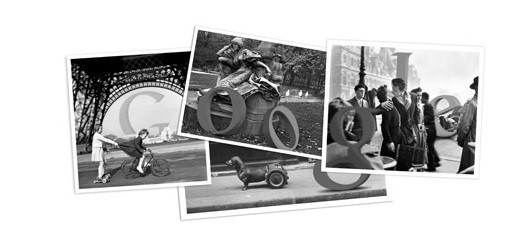 Google has come up with a new doodle to commemorate the 100th birth anniversary of French photographer Robert Doisneau.
The search engine giant has posted four of Doisneau's most famous photographs in the form of a doodle on its search page.
Doisneau was born on 14 April, 1912 in Gentilly, France. During his career he documented the French people, the surreal in everyday life.
"I don't photograph life as it is, but life as I would like it to be," he once famously said.
Dosineau sold the first photo story in 1932 to Excelsior magazine and in 1934 he started working with auto-manufacturer Renault as an industrial and advertising photographer.Dinoseau joined the French army during World War II as a soldier-cum-photographer in 1940. He served the army until the end of the war in 1945.
Some of Doisneau's most memorable photographs were taken after the war. One of the most famous works of Doisneau is, Kiss by the Hotel de Ville (Le baiser de l'hotel de ville), that was shot in 1950 which shows aspiring young actors in a liplock. The photo appeared in Life magazine in 1950. It became international symbol of love in Paris.
The image has been used as one of the best four in the google doodle. The other three images include one of the earliest works of Doisneau. The image titled Le Remorqueur du Champ de Mars (Tug on the Champ de Mars) shows two children playing at Champ de Mars near the Eiffel Tower and was shot in 1943. One of the kids is riding a bicycle and the other is tugging along on roller skates.
The second picture is Trois petits enfants blancs, parc Monceau (Three little white children, Parc Monceau) and was shot in 1971. The photo has an image of a woman at the 19th-century French writer Guy de Maupassant's monument at Parc Monceau, Paris, on the foreground and three kids in white hooded jackets are photographed walking in the background.
The third photograph is Le Chien a Roulettes (Dog on Wheels) from 1977, which shows the image of a dog with wheels attached to its hind legs seemingly waiting on a Paris sidewalk while two woman chat at the entrance of a liquor store.
Doisneau's photos were widely recognised in the history of photography. His career spanned more than a half-century. He later emerged to produce children's books and also involved himself with advertising and celebrity portraits. Doisneau died on 1 April 1994 at the age of 81 in Montrouge, Paris.