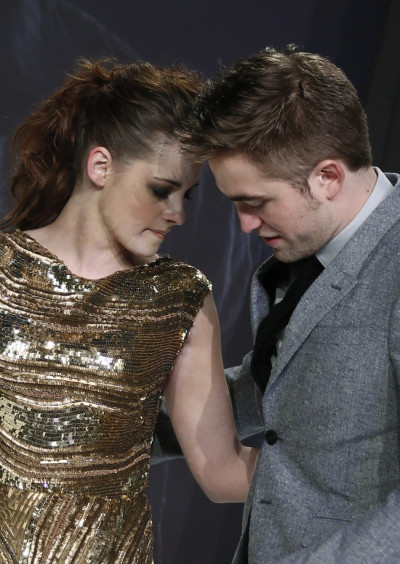 Kristen Stewart and Robert Pattinson are more than one of Hollywood's most popular couples. The American-British duo is now also the highest-grossing on-screen romantic pairing.
Stewart and Pattinson shot to fame as Bella Swan and Edward Cullen in the hugely successful vampire-themed fantasy film franchise Twilight. Forbes believes the films have earned $1.17bn (approximately £750m) at the US box office alone in the past three years; the report estimates global earnings are more than double that figure.
"There is something unique about these films in the way that people have attached themselves to them," Dorothy Pomerantz of Forbes.com said, "The movies are unconventional, and you have the added element that the two people are a couple in real life."
It isn't just the romance of the Twilight story that has added to Stewart and Pattinson's appeal. The dramatic ebb and flow of their real-life relationship has only added to the glamour. The 22-year-old Stewart was found cheating on her boyfriend with British director Rupert Sanders, triggering an avalanche of media coverage.
The couple were reported to have reconciled late last year and reunited to promote the final film of the Twilight series - The Twilight Saga: Breaking Dawn - Part 2. The latest twist in that tale, though, is a report that the 26-year-old Pattinson has now broken up with Stewart.
Runners-up
Actor Channing Tatum, who was declared the Sexiest Man Alive, by People magazine, and 34-year-old Canadian Rachel McAdams came second in the couples' list. The two starred together in The Vow, released early in 2012. Third place went to former Friends star Jennifer Aniston and Razzies' favourite Adam Sandler, who worked together for Just Go With It.
Another off-screen couple who made the list was Miley Cyrus and Liam Hemsworth, who met while filming The Last Song in 2009. Their relationship was declared serious when the Hunger Games star proposed to Cyrus last May, with a 3.5-carat diamond ring from jeweller Neil Lane.
Forbes states it took into account the performance of romantic films at the US box office over three years, with information on ranking drawn from Box Office Mojo.
Click Start to see the other glamorous Hollywood couples who made it to Forbes' list of the highest grossing romantic couples