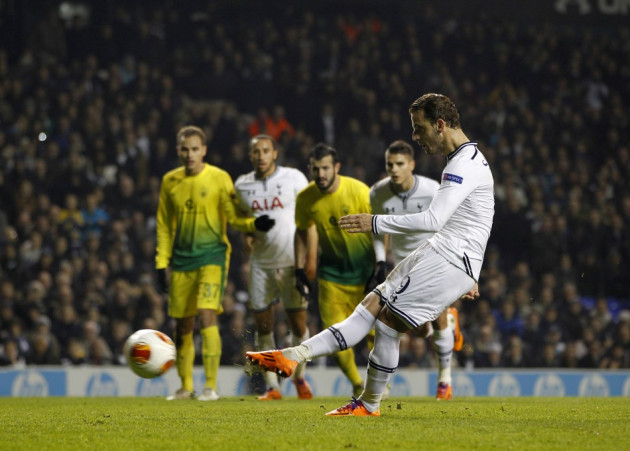 Tottenham striker Roberto Soldado admits he has struggled so far this season, but after scoring a hat trick against Anzhi Makhachkala in Spurs' last Europe League game he has promised to turn his form round.
Soldado has been far from his best and has yet to justify the £26m that Tottenham paid to Valencia last summer to secure his services. He has scored just four goals in 13 league games, with only one from open play.
The 28-year-old Spaniard even lost his place in Andre Villas-Boas' line-up in the last two league games, but the manager gave him another chance in the Europa League against Anzhi and he proved that he has not forgotten how to score.
Soldado admits that his start in England has been tough but he approaches the next few games with plenty of optimism.
"I do not want to give up. I am not in my best moment because I am struggling with goals but this is a nice challenge and I believe that everything is going to go well," the striker told Spanish radio station Cadena Cope.
"I am happy at the team and with everything but I have not scored as many goals as I wanted. After scoring three in the last game I am sure I am going to score many more in the future.
"My numbers are not particularly bad but should be better. I have had a big change and it takes time to adapt, but this is not a excuse.
"I am better after my last performance. It was an important game because I had not played in the last two games and this was my chance to show what I can do and I think that has gone really well. Let's see if I have another chance to play on Sunday."
Tottenham play against Liverpool this weekend and Soldado believes that they can beat the Reds to move closer towards their season's target, which is to finish in the top four.
"We had a bad moment but after winning the last two games away we are closer to the top four again. On Sunday we have a big game against Liverpool, we play at home, the team are in a good mood and we hope to grab a victory to be closer to Arsenal, who have been the most solid and regular side until now.
"The team goes from less to more. We are close to our target, which is to be in the Champions League places."
Nevertheless, it is not clear if he is going to start against Liverpool as Villas-Boas admits that he hasn't come to a decision over whether to play the Spaniard or Jermain Defoe.