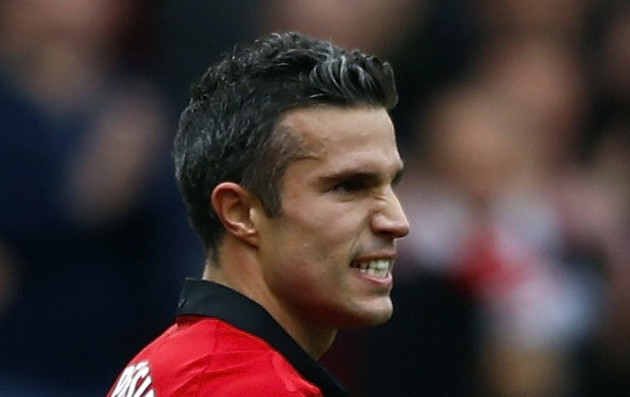 Manchester United striker Robin van Persie will miss the League Cup third round tie against Liverpool at Old Trafford with a thigh injury, manager David Moyes has confirmed.
Van Persie missed the 4-1 defeat to Manchester City at the weekend after picking up the injury in training but was expected to be available for the visit of The Reds.
But Moyes has confirmed the 30 year old is absent for the mid-week fixture and is not even guaranteed to feature for United against West Bromwich Albion in the upcoming Premier League clash.
"I don't think Robin van Persie will play on Wednesday, but he has an outside chance for Saturday," Moyes told reporters.
"I think my idea was always to focus on every competition. It's always been the way here to win. In many ways the Capital One Cup has been a route to give as many young players an opportunity as we can.
"I think the draw sometimes in the Capital One Cup is the reason sometimes you can do that. Obviously this is a really big tie that has come out of the hat first.
"It's a big rivalry. And it could take on a bigger significance than people might expect."
Moyes enjoyed four wins over Liverpool as manager of Everton and is charged with overcoming Brendan Rodgers' side in order to reach the fourth round of the League Cup.
A task made all the more difficult but the emphatic defeat in the Manchester derby on Sunday and Moyes is keen to use the mid-week tie as a way to forget United's thrashing at the Etihad Stadium.
"Well, it's gone now isn't it?" the United boss added. "I can't do anything about it so we move on and get ready for the next game.
"Yeah, it did [shock me]. But when you're a football manager for the length of time I have been, you are always going to have shocks. I've had lots and I have got no doubt there will be more in the future. That's the way football is.
"To get back on and play again is the best way to do it. You can't dwell too much on it. We're looking forward to getting the next game started and hopefully trying to win. I'm still getting to know all the players here and I have got a chance to get to know a few more of them this week and we'll see what they can do."