Manchester United striker Robin van Persie says the attitude of the club's striking quartet sets an example for the remainder of the squad.
United have the luxury of calling on arguably the finest group of forwards available to one side in the Premier League, with Danny Welbeck, Javier Hernandez, Wayne Rooney and Van Persie himself in their ranks.
Both Welbeck and Hernandez have been forced to play second fiddle for much of the season, and United's Dutch marksman, who scored a stoppage-time winner in the Manchester derby on Sunday, says the approach of each of the strikers is rubbing off on the rest of the squad.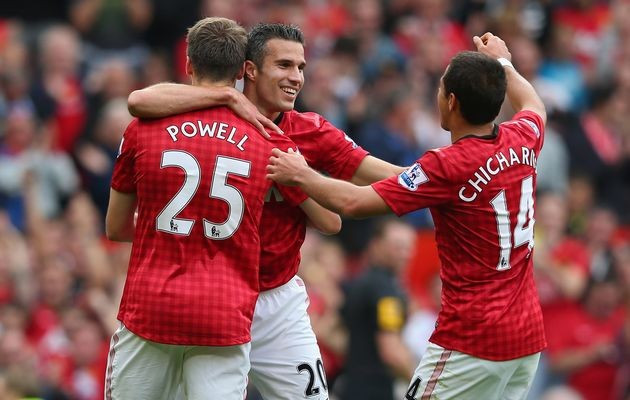 " I can learn from them as well," Van Persie said.
"For example, I love Chicharito's (Hernandez's) enthusiasm, I love how he plays and trains and does his work off the pitch after training. A couple of weeks ago he wasn't playing as much but he was in the gym every day doing extra work, and that sets a big example for everyone.
"Danny, too. He's not playing in his favourite position at the moment but we need him and he's working hard.
"When you have four strikers being so professional, it sets the tone for the others. Everyone realises we are all in it together and we all need to do our bit."
Victory over champions Manchester City at the Etihad Stadium not only inflicted upon Roberto Mancini's side their first home defeat for two years but also their first in the league this season as United opened up a six-point gap at the Premier League's summit.
The match was overshadowed by a series of arrests for pitch invasions and racial abuse, while Rio Ferdinand was struck by a coin while celebrating United's winning goal as the entertaining game ended in unsavoury circumstances.
Ryan Giggs, a veteran of 920 United appearances, says the hostility with City mirrors the club's previous rivalry with Arsenal.
"We had so many battles with Arsenal that were skilful games, but also physically tough, and I felt the game was like that on Sunday," Giggs said.
"It is two very good teams with the added spice that it's a local derby. Over the last three years, each Manchester derby has intensified. The build-up is longer, people start talking about it earlier and the feeling when you win is even better.
"It was two quality sides, both in good form and going head to head at the top of the league. We took the first half and then City came back into life like we expected, but I thought we still looked dangerous and had goals in us during the second half. At 2-2, with City coming back into it, most people would've settled for a draw, but we score late goals so often and there is no better feeling, especially in such a big game."