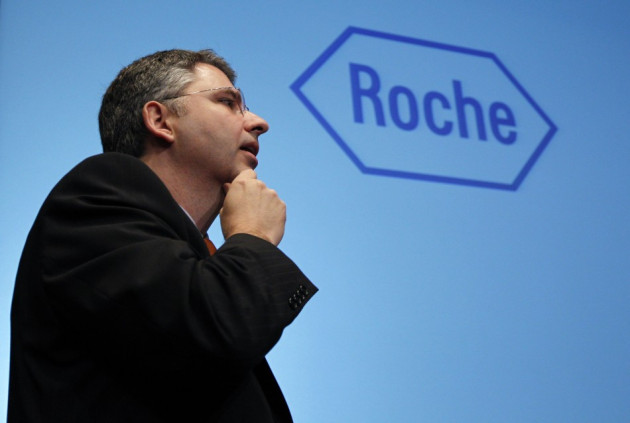 Roche Holding AG (SIX:ROG) shares were up a touch on news that it will increase its bid offer to take over US biotechnology company Illumina Inc, despite posting fairly flat results for the first quarter of 2012.
Group sales for Switzerland-based Roche, the world's largest manufacturer of cancer drugs, were held back by a strong Swiss franc, which pulled sales down significantly in its Western European division.
"With [group] sales advancing 2 percent in the first three months, we remain on track to achieve our targets for the full year," Severin Schwan, Roche's chief executive, said.
A new offer of $51 a share has been made to Illumina shareholders by Roche, up from an original bid of $44.50.
This improved offer has an expiry date of 20 April, Roche said, adding in a statement to Illumina shareholders that it was a "more than reasonable starting point for negotiations".
At a constant exchange rate (CER) Roche's group sales for the first three months of 2012 grew two percent, to 11bn Swiss francs (£7.54bn), though in Swiss francs group sales fell by one percent.
Sales in Western Europe dropped by 4 percent at a CER, but when taken in Swiss francs this fall becomes 9 percent.
Roche blamed European pricing pressures.
The US region was the greatest contributor to growth, said the Swiss drugmaker, as its sales expanded by 6 percent - to a total of 3.44bn Swiss francs - boosted by increased sales of its antiviral Pegasys and antibody Rituxan.
Its diagnostics division saw growth of 4 percent at CER, but was flat in Swiss francs at 2.4bn.
Pharmaceutical companies have been hit by austerity measures across parts of the world, particularly Europe, as governments rein in their spending - including medical bills.
In the UK chancellor George Osborne has tried to encourage investment from the pharmaceuticals industry by bringing in a so-called "patents box" in his 2012 Budget, which sees tax incentives on patents of new drugs.