5.05am: Ok, it's five in the morning and this blog's ready to be put to bed. It's been a fascinating evening, one which has seen Ukip emerge as the big winners and Labour, surprisingly, suffer the most ignominious loss.
Thanks for reading, and goodnight [or rather, good morning].

5.00am: Ukip leader Nigel Farage reacted to this evening's result by telling reporters: "David Cameron put his own personal reputation on the line to fight this by-election and lost so, there you go".

4.55am: A SUMMARY OF TODAY'S EVENTS IN ROCHESTER

Ukip's Mark Reckless has won the Rochester and Strood by-election
Reckless polled nearly 17,000 votes, 2,900 ahead of Tory Kelly Tolhurst, and grabbed 42% of the overall vote.
The Lib Dems were wiped out, finishing with just 349 votes
Earlier in the evening Labour's Shadow Attorney General Emily Thornberry stood down after tweeting a photo of a terraced house in Rochester, which was widely criticised for being snobbish and patronising.

4.50am: The question we're all asking:

4.45am: Full video footage of Reckless's speech is available here.

4.40am: Reckless also thanked the Conservative supporters who came with him, and the Labour voters who switched to Ukip.

4.30am: Reckless on his new boss Nigel Farage: "he works 16-18 hour days, 6-7 days a week. His professionalism is extraordinary."

4.30am: Here are the key results overall.

Mark Reckless, Ukip, 16,867
Kelly Tolhurst, Conservatives, 13,947
Naushabah Khan, Labour, 6,713
Clive Gregory, Greens, 1,692
Norman 'Hairy Norm' Davidson, Monster Raving Loony Party, 151
Geoffrey Juby, Lib Dem, 349
Jayda Fransen, Britain First, 56
4.30am: Reckless ended up with 42% of the vote overall.

4.25am: Reckless: "If we can win here, we can win across the country. If you vote Ukip, you get Ukip."
4.20am: Reckless giving his victory speech now. He harks back to Levellers, Suffragettes and Chartists in his speech. He thanks the rival candidates, even Hairy Norm of the Monster Raving Loony Party, and says politics is an alternative to anarchy and despotism.

4.20am MARK RECKLESS WINS WITH 16,867 VOTES - 2,920 MORE THAN KELLY TOLHURST
4.15am: Candidates now on stage.

4.10am: Press assembling around the stage now. Things might actually, finally be moving.

4.00am: Cameras keep flashing to Farage, grinning like an extremely contented stoat in anticipation of Ukip's victory. Not much coverage for the Tory candidate Kelly Tolhurst.

3.55am: We are 10 minutes away.

3.50am:

3.45am:

3.35am: Ukip is victorious - in the Peninsula Ward council elections.
Here are the results:
Chris Irvine (Ukip): 2,850 Green: 314 Lib dem: 60 Ronald Sands (Tory) 1,965 Lab: 716
3.30am: Word on the street (well, the word from the sports hall in Rochester) is we're going to get the results at 4am. But that's not been confirmed by any official source.

3.20am: Update. The result will be announced in... well, no-one seems to know. Obviously we'll keep you posted when, or if, anything happens.

3.10am:

3.05am: In case you're waking up or getting back from the pub, the main story of this evening has been the unfortunate tweet by Labour MP Emily Thornberry featuring a picture of a terraced house draped in union jacks. The tweet was roundly condemned for being snobbish and patronising and has cost Thornberry her job as Shadow Attorney General.
Here is a link to the original news story by IBT, and here's a profile on Thornberry, the twit behind the tweet.
3.00am: Professor John Curtice, the Gary Neville of British election analysis, giving his typically astute and forensic punditry on the BBC right now. His assessment doesn't sound good for the Lib Dems.

2.35am: Nigel Farage arrives for the count and speaks to the press.

The Ukip leader insists "I'm just here as a supporting cast for Mark Reckless. He's done what people in politics don't do anymore, he's shown guts and honour.
"The prime minister comes five times to the constituency, 1000 people are out there, it's a Conservative campaign of unprecedented proportions.
"If little Ukip in this David v Goliath battle is able to defeat the government with a well-aimed stone, it will be a massive, massive victory."
2.25am: Chris Bryant on Emily Thornberry tweet: "The first rule of politics is you respect the voters. By Emily's own admission she didn't do that. Of course it's an own goal if it looks like we're being disrespectful to voters."
2.20am: Labour candidate Chris Bryant begins his segment on BBC by pumping his fist and saying 'gingers united.' Have they all caught some kind of unelectability virus?

2.10am: Looks like Emily Thornberry has divided the opinion of the Twitterati.

1.55am: Not sure I can add anything to this.

1.50am: An interesting alternative take on Emily Thornberry's 'image from Rochester' tweet. Can't imagine this pic made great viewing for Nigel Farage.

1.45am: IBT's senior features writer Shane Croucher has penned an excellent piece about the sinister politics of immigrant repatriation. Worth a read no matter your take on Ukip. Here's a link.

1.30am: Reckless has spoken to the press. I would include some of his quotes here, but, to be honest, none of them were worth printing.

1.25am: Pollster tells BBC Reckless will likely have a majority of around 3,000.
Not as many as first thought, but, to twist an old football adage, surely Ukip would have taken that before the polls opened.

1.20am: Katie Hopkins offering her typically forthright, pointless and ill-considered two cents on Emily Thornberry and her flag gaffe earlier.

1.15am: Here's a round-up of the major stories of the night so far:

1. Emily Thornberry
2. Emily Thornberry
3. Emily Thornberry

1.10am: Speculation on social media that Lembit Opik could become the Lib Dems' first Ukip defector. If the rumours are true, it would be a sensational story. Shame he's not still with Cheeky Girl Gabriela Irimia - the thought of her meeting Nigel Farage is almost too good to be true.

1.05am: Can the Monster Raving Loony Party really beat the Lib Dems? Some would argue Emily Thornberry has already given us enough lunacy for one day.

12.55am: Turnout was just over 50%. Not a great figure given the significance of the by-election and the personalities involved.

12.50am: Seems some people don't think WhiteVanGate's much of a big deal.
12.45am: Priti Patel tells Sky that more defections from the Tory party would be "counter-productive." Can't imagine it will stop the speculation though.

12.40am: Britain First trying to muscle in on Ukip's limelight. Doubt Farage would share their view, certainly not publicly.

12.35am: As Ukip stand on the brink of doubling their representation in parliament, here's my account of a surreal afternoon drinking and nattering with Nigel Farage in a London boozer. It may disabuse some preconceptions about the man.

12.30am: A brilliant graphic created by IBT's Ian Silvera shows the results of the various polls leading into today's by-election.
12.25am:

12.15am: Reports from Rochester suggest Lib Dems have also been panned. Looks like Emily Thornberry's the only talking point at the moment. The election's a foregone conclusion.

12.05am: Here's a brief biog on Emily Thornberry, the woman who has stumbled into the centre of tonight's by-election coverage and ensured Labour are the ones who will lose out.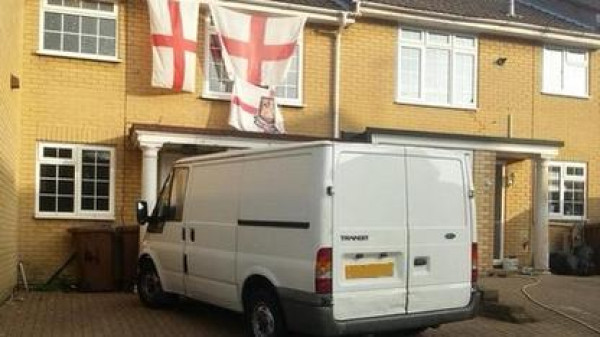 11.40pm: Turns out the guy whose house has forced the resignation of Emily Thornberry didn't even know there was a by-election on. This just gets worse for Ed.

11.35pm: Thornberry fall-out rumbles on and shows no signs of abating. This must be beyond Nigel Farage's wildest dreams.

11.30pm: IBT designer Luis Ouriach has given us a helpful diagram of all the people who have jumped ship from the Conservative and Liberal parties in recent months. Will more people follow suit if Ukip wins big tonight?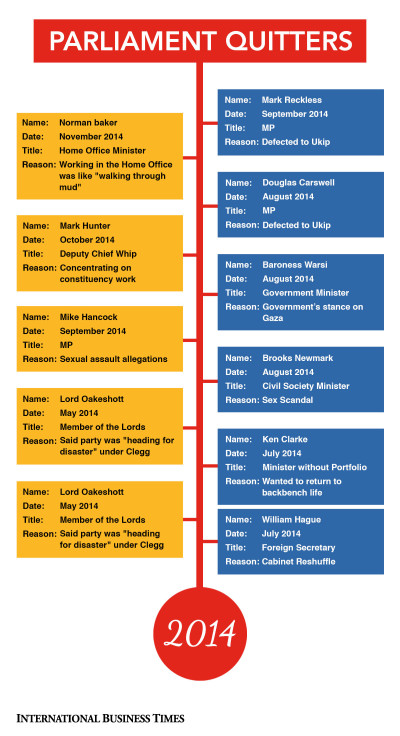 11.25pm: Tories have already conceded. Seems the only way is Ukip for the denizens of Rochester and Strood this evening.

11.15pm: Apparently they've tracked down the man whose home was ridiculed by Emily Thornberry earlier.

11.10pm: Ukip's deputy leader Paul Nuttall has been quick to dance on Emily Thornberry's political grave, telling Sky that her tweet was "crass and wrong" and the resignation shows that Labour was "in panic."
According to Nuttall, "Labour has been hijacked by a right-on metropolitan north London sect." This sentiment is rapidly becoming a cliche as the Thornberry furore unfolds.

11.00pm: Click on the links to read IBTimes UK reporter Ian Silvera's interviews with both the Labour and Lib Dem candidates. Top stuff as always from our star political reporter.

10.50pm: Simon Danczuk, Labour MP for Rochdale, responded to Thornberry's comments by telling Mail Online it was "like the Labour Party has been hijacked by the north London liberal elite, and it's comments like that which reinforce that view".
Seems nothing is coming up Miliband at the moment. On a day which was meant to be a disaster for the Tories, Labour have managed to grab all the headlines.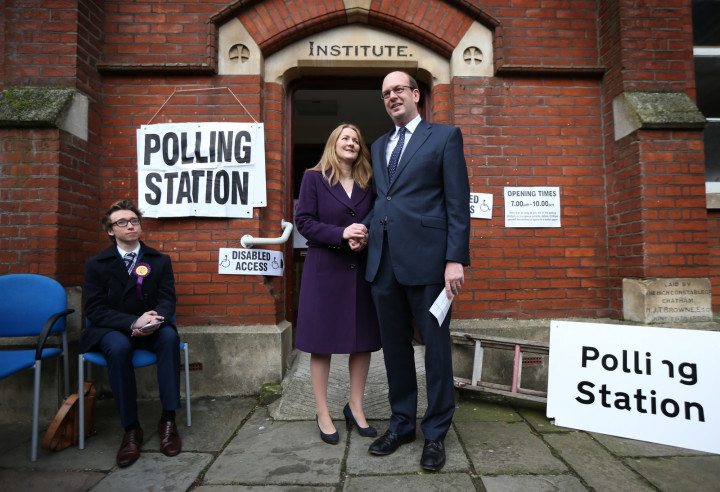 10.40pm: More on Emily Thornberry. One Labour insider, asked about Ed Miliband's reaction, told ITV "it was the angriest I've ever seen him."

10.30pm: One observer, David Skelton, has tweeted that "Emily Thornberry's tweet may be the most devastating message Labour has managed to deliver in the past four years." Can things get any worse for Ed Miliband?

10.25pm: Whoever wins tonight's election, it seems certain the Labour Party will be a massive loser - and the party is facing huge embarrassment before the votes have been counted.
Shadow Attorney General Emily Thornberry has resigned from Ed Miliband's shadow cabinet after posting a derogatory photograph of a council house draped in St George flags, claiming it was the 'image from Rochester.'
More reaction on this to follow.
10.20pm: The polls have closed in Rochester and Strood, and now we wait to see whether Ukip and Mark Reckless will complete their much-anticipated victory.
Reckless is the red-hot favourite to win, with one bookmaker having paid out on his success. But there could yet be a twist in the tail.
Much attention will also fall on Britain First, the far-right party which has declared its support for Ukip but also put forward its own candidate for tonight's election.
Follow IBT's live blog for blow-by-blow coverage of one of the most talked-about by-elections in recent years.