Rodrigo Duterte's most controversial remarks in 2017 include rape comments, eating liver and murder
One of Asia's most colourful leaders did not mince his words this year delivering expletive-laden remarks.
Philippines President Rodrigo Duterte is one of the most outspoken world leaders who has become famous globally for his controversial remarks since he took office in June 2016. His relentless "drug war" across the Southeast Asian nation was only an extension of what he was undertaking in the Davao City as a mayor before becoming the president, and this bloody campaign has only amplified his image of "punisher".
This year has seen Duterte, a firebrand leader notoriously known for his expletive-laden tirades, making some of the most contentious remarks invoking the wrath of his opponents and critics alike. This was also the year which saw Duterte ordering troops to implement martial law in Mindanao region to fight Islamist jihadists and intensifying the offensive against drug pushers and convicts.
Eating Liver
Duterte had threatened to eat the internal organs of Abu Sayyaf Islamists, not once or twice but on three different occasions. In his cannibalistic threat, he said he would not hesitate to devour terrorists' livers if they are seasoned enough with "salt and vinegar".
He was speaking against the backdrop of the atrocities carried out by Abu Sayyaf, the armed Islamist group of the southern Philippines known for its kidnappings and extortion in the southern region.
"I will eat your [Abu Sayyaf militants'] liver if you want. I will just add salt and vinegar, I will eat it in front of you," Duterte told a gathering on 5 July. "I eat everything. I am not picky. I eat even what cannot be swallowed."
Rape joke
Duterte did not hesitate to crack jokes on sexual assaults against women on more than one occasion. At first, he told his troops jokingly that they can each rape three women without the fear of impunity.
"You can each rape three women and I will protect you. Do not worry. I will join you. I will... If you go down, I go down," Duterte said while speaking about the Filipino troops fighting in Marawi, the city which was placed under martial law. "But for this martial law and the consequences and [its] ramifications, I and I alone would be responsible. I am here to say to you, fight and I will pray for you and I will answer for everything."
He later clarified that he was only quipping about his remarks but, unsurprisingly, faced intense criticism over such controversial comments on women. On another occasion, he even said one can mess with Miss Universe but should not rape children.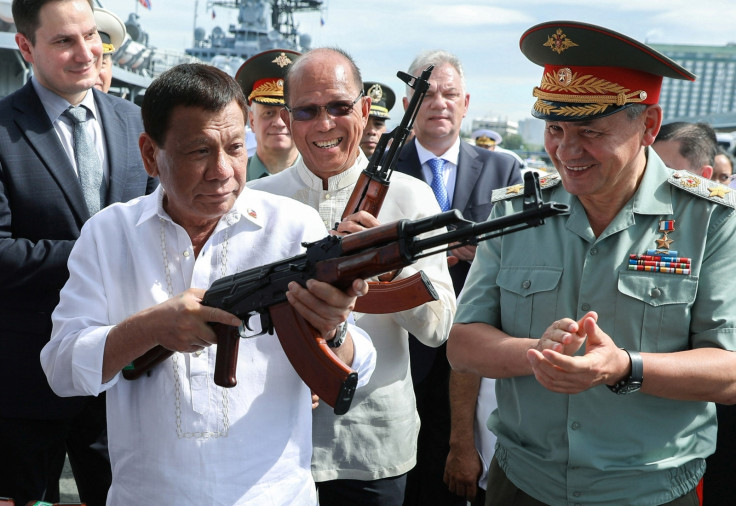 Stabbing to death
There was yet another revelation in November when Duterte admitted to killing someone when he was just a teenager. "At the age of 16, I already killed someone. A real person, a rumble, a stabbing. I was just 16 years old. It was just over a look. How much more now that I am president?" Duterte said during a visit to Vietnam.
This was also not the first time he had personally admitted to killing someone as at least on two previous instances Duterte had indicated he had murdered criminal suspects.
Whether boy or girl
While throwing his weight behind the LGBT community and showing support for them, he divulged he was consumed about his sexuality when he was in high school. He said he was not sure whether he was a boy or a girl in his adolescence.
"I said I am for [same] sex marriage if that is the trend of the modern times. If that will add to your happiness, I am for it," the Philippines president said, showing solidarity with the LGBT community.
Duterte vs Catholics
Not so much of a religious person, Duterte has been at loggerheads with the influential Catholic church on multiple matters. During a speech in January, he accused Catholic priests of being homosexuals and sexually assaulting children.
He said the church leaders are "full of s**t" and they "all smell bad, corruption and all" in a tirade against the priests.