Roger Federer plans on continuing his Wimbledon domination as he revealed his intentions of returning to the All England Club next year to defend his crown.
The 35-year-old became the first player to win a Wimbledon title eight times following his dominant straight set 6-3, 6-1, 6-4 victory over an injured Marin Cilic on Sunday (16 July).
Having impressively not dropped a single set throughout the tournament, Sunday's Wimbledon win was not only Federer's second Grand Slam of the year but also his fifth title in 2017 following a six-month layoff due to a knee injury.
And Federer, who is the new world number three now, believes with his new schedule, he will be back to defend his crown next year.
"The goal is definitely to be here again next year to try and defend," Federer said, as quoted on The Times. "I do think a year ahead of time with my schedule, fitness schedule and tournaments I would like to play, so I totally see myself playing here this time next year."
The Swiss ace also triumphed in his "favourite tournament" for the first time since 2012 as he reflected on what a special moment it was to make history at Wimbledon.
"It is very special," Federer added. "Wimbledon was always my favourite tournament and always will be. My heroes walked the grounds and the courts here. Because of them, I think I became a better player, too."
"To mark history here at Wimbledon really means a lot to me. It's that simple. Funny enough, I didn't think that much of it throughout today. I was more just so happy that I was able to win Wimbledon again because it's been a long road. It's been tough at times, but that's how it's supposed to be.
"So to be Wimbledon champion for an entire year now is something I can't wait to savour and just enjoy. Number eight obviously means a lot to me because at that level, to be part of Wimbledon history, is truly amazing."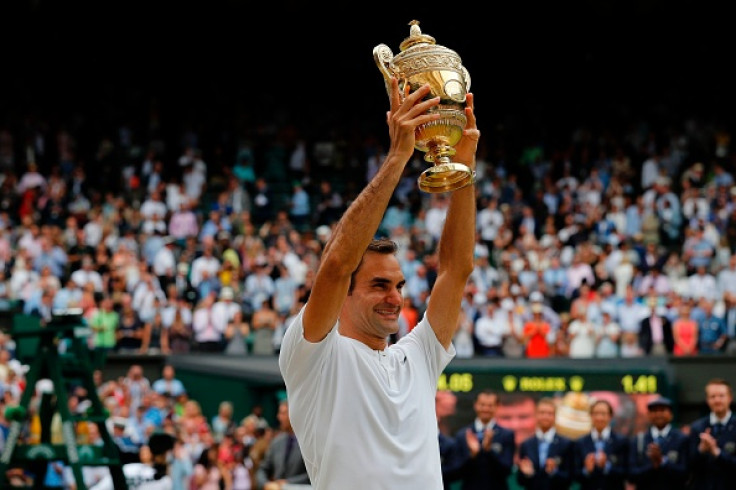 Federer won the Australian Open earlier this year after a long break due to injury and has now triumphed at Wimbledon, having skipped the entire clay-court season. Having joked earlier about how he should take more time off, the 19-time Grand Slam winner is surprised as well at the results.
"I'm incredibly surprised how well this year is going, how well I'm feeling, how things are turning out to be on the courts, how I'm managing tougher situations," he explained. "I knew I could do great again maybe one day, but not at this level."
"I guess you would have laughed if I told you I was going to win two slams this year. I also didn't believe that I was going to win two this year. I don't know much longer it's going to last. But I have just got to remind myself that health comes first at this point. If I do that, maybe things are actually possible that I didn't think were."