A violent gang of Romanian robbers has been jailed for a total of 82 years for stealing more than £1m worth of jewellery in a series of raids.
The 10 men were given sentences of between six and nine years after pleading guilty to a string of smash-and-grabs on jewellery stores across London.
The defendants were arrested when they were caught red-handed robbing a store in Turnpike Lane, north London after they were put under police surveillance.
The judge at the Old Bailey warned people coming into Britain that the courts would not be a "soft touch" for criminals.
Judge Timothy Pontius said that none of the men in the dock had "done an honest day's work" while they have been in Britain. They arrived in the UK with the intention of carrying out robberies, he said.
He said: "Anyone who comes to the UK - irrespective of from whatever part of the world - wanting to commit serious crime must clearly understand such abuse of the hospitality of this country and its people must be seriously punished.
"It follows that the more grave the crime, the more severe the retribution will be. No one should think for a moment that courts in the UK will be a soft touch. Sentences such as these must be a powerful deterrent not only to homegrown but to imported criminals.
"All will be deported, and rightly so."
The men targeted Asian jewellery stores all over London, stealing mostly 22-carat gold items. In each robbery the gang used an array of weapons including hammers, axes and sledgehammers to smash glass cabinets and frighten members of staff.
Their plan also included one of the men dressing up in a suit to gain entry into the store, then holding the door open to allow the others wearing hooded tops, scarves and balaclavas to charge in.
The gang took off with over £1.1m worth of goods in total and only around £130,000 worth has been recovered. In one raid the gang stole £500,000 worth of goods from just one shop in Wembley, northwest London.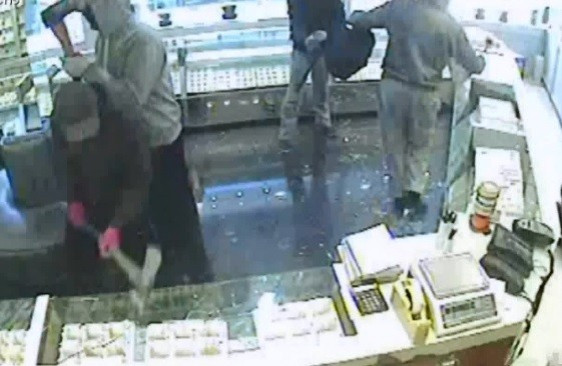 Jonathan Polnay, prosecuting, said: "This was a sophisticated, well-planned conspiracy deliberately targeting jewellers. All the defendants are Romanian. These are all relatively young men who came to this country to rob."
Det Insp Ian Corner of the Flying Squad said: "This has been a particularly complex investigation into the robbery of valuable gold items stolen from a number of jewellers across London.
"I am pleased with the sentences handed down and hope it acts as a deterrent to others. These were violent armed robberies during which innocent members of staff were terrorised and genuinely feared for their lives. It is even more shocking to know that this level of violence was inflicted on innocent customers who happened to be in the premises."