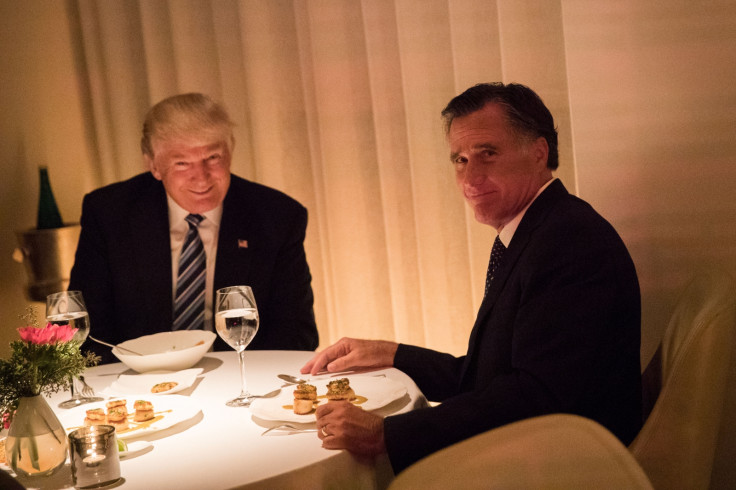 Former governor of Massachusetts, Mitt Romney, may have lost out on the secretary of state job in Donald Trump's upcoming administration because he refused to apologise for his past comments about the president-elect, reports have said.
Romney, the Republican presidential candidate in 2012, made a speech before Trump had won the nomination calling him a "fraud" and a "phony" among other names. Trump has returned the blows, previously calling Romney "awkward", "goofy" and "dope" on Twitter.
The two met a number of times since Trump's election, with Romney being considered for one of the top cabinet positions, secretary of state. But that job went to ExxonMobil CEO Rex Tillerson earlier this month.
After pictures of a smiling Trump at dinner with an awkward looking Romney were released last week, rumours started that Trump was only dragging out the nomination to punish Romney for his past comments — Trump denied this in an interview with NBC, saying that it was "not about revenge" but about "what's good for the country".
Three sources told CNN that members of Trump's transition team did not want Romney to get away so lightly and wanted the former governor to publicly apologise for his previous comments. Some aides, such as Kellyanne Conway, even went public with their disdain for Romney. Conway went on TV to say that Trump supporters felt "betrayed" by Romney even being considered.
Romney had majorly changed his tone on Trump, publicly praising him after their meetings, but he would not retract his earlier speech.
Other considerations for the positions were former CIA director, David Patraeus, who resigned after his extramarital affair with his biographer became public; and Rudy Giuliani, the former mayor of New York, who publicly campaigned for the position before the transition team released a statement saying he had "removed his name from consideration".