Former Barcelona star Ronaldinho says he nearly moved to Manchester United from Paris Saint-Germain shortly before joining the Catalan giants in 2003. The 35-year-old revealed he was just 48 hours away from putting pen to paper at Old Trafford before he got the call from Barcelona.
Ronaldinho inspired the Catalan side to two La Liga titles and one European Cup during a successful five-year stint in Spain, during which he was named the World Footballer of the Year twice.
In an interview with FourFourTwo magazine, the former Brazil international insisted he had no regrets about his decision to snub United for Barcelona.
"It almost happened with United. It was a matter of 48 hours, but Sandro Rosell had told me way before I got the offer, 'If I become Barça president, will you come?' I said yes," Ronaldinho explained.
"It was only a matter of details with United when Rosell called to say he was going to win the elections there. And I had promised to him that I'd play for Barça... It was a quick negotiation.
"I told the English I had chosen Barça. It was the right choice. Brazilians have always loved Barça. We have a history there. Off the pitch it is like nowhere else in Europe, so we are always happy playing there."
'No problems with Messi'
Ronaldinho, who left Barcelona to join AC Milan in 2008, denied that he was a bad influence on Lionel Messi, saying he tried to mentor the Argentine when he was coming through the ranks at the Nou Camp.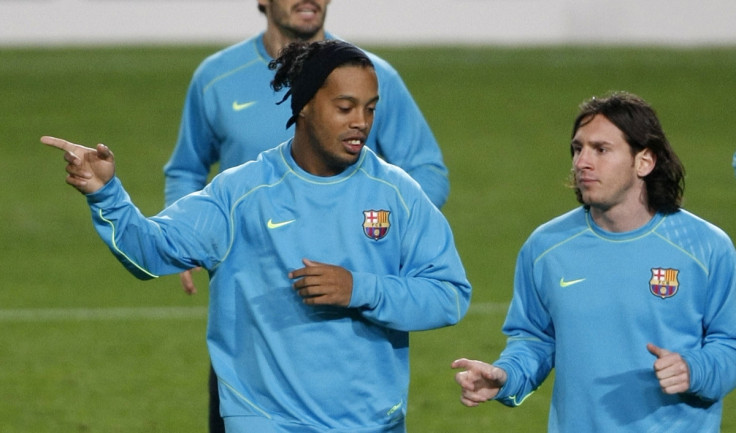 "I always tried to be a good influence on him and actually try to do for him what Ronaldo did for me. I felt embraced by Ronaldo and I wanted Leo to have the same," the former Gremio star stated. "Messi was always very shy, but always a fantastic player. We lived on the same street, so I had a great relationship with him and his family. Even then I knew he was a better player than me."
Ronaldinho ranked Milan legend Paolo Maldini as the greatest player he ever faced.