Rory McIlroy laid down a marker ahead of the Ryder Cup after finishing two-shots clear of Tiger Woods to claim the Deutsche Bank Open and move top of the FedExCup points list.
The Northern Irishman trailed overnight leader Louis Oosthuizen by three shots going into the fourth round, but carded a 67 to finish a shot clear of the former Open Champion.
Woods shot 66 in Norton to finish two back in third ahead of American pair Phil Mickelson and Dustin Johnson, both of whom finished on -14, with none of the trio able to get close to McIlroy, who won his third PGA tour title of the year.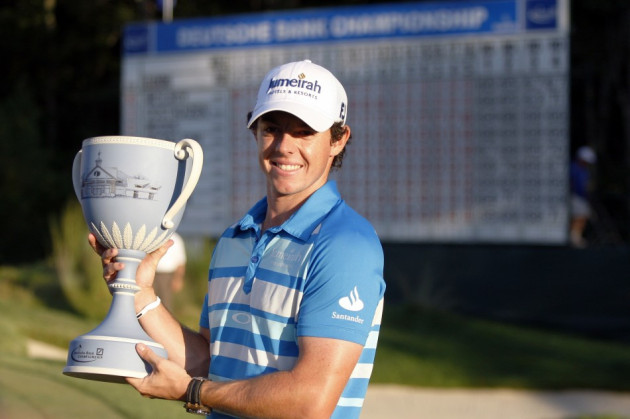 "I'm delighted to get my fifth win on the PGA Tour, third win this year, second win in the last three events," said McIlroy.
"Today was great, going out with a three-shot deficit. I just wanted to get off to a good solid start and maybe put Louis under a little bit of pressure.
"I was able to do that playing the first holes three under, and we both made a couple of mistakes on the fifth hole, but he made a six to my five, so I was able to take advantage of that a little bit.
"I think the good start set me up for a solid back nine. There was a couple of shots on the back nine I... well, I won't take back now, but if I could have then, I would have.
"But I still managed to do enough, and as I said, delighted to get this win, delighted to go to number one in the FedEx Cup. It sets me up for a great next couple of weeks, so overall I'm just very pleased."
Ahead of the Ryder Cup at the end of the month Lee Westwood and Luke Donald finished on -8 and -5 respectively but Ian Poulter (+1) and Graeme McDowell (+7) were both off the pace.
With McIlroy and Woods closely matched on the TPC Boston course, hopes are high that this week's contest could repeat itself should the duo be paired in the Ryder Cup singles.
The 14-time major winner is the only player to have won more PGA titles before the age 24 than McIlroy, and American Ryder Cup captain Davis Love hopes the pair can face off in Medinah.
"I'd want to go watch that one," said Love. "It would be nice to be able to rig a couple like that for Tiger and Rory - he would probably like that.
"It would be a great match. I'm sure they would both relish that.
"We have got some guys on our team that I'm sure would love to take Rory on because you want to play your best.
"You want to play a guy that's hot and I know Tiger, or Phil [Mickelson] or any of those guys would love to try it."