Rory McIlroy has spoken at length for the first time about playing a round of golf with United States President Donald Trump, after being drawn into American politics by the billionaire businessman's ascent to the White House. Trump orchestrated a largely criticised campaign littered with racism, sexism and homophobic remarks, but nevertheless McIlroy was engaged by the election.
The Northern Irishman plays much of his golf on the PGA Tour and was regularly exposed to the televised presidential debates that Trump contested with Democratic candidate Hilary Clinton. The 27-year-old was offered the chance to play with Trump, who owns 17 courses around the world including Turnberry – four-time host to The Open Championship – last weekend and gratefully accepted, given his new interest in the political system.
Trump has already played rounds with 14-time major champion Tiger Woods, who stated the president "takes a pretty good lash" for a 70-year-old, and South African Ernie Els, who was widely criticised for accepting the invitation after pulling out of another event at Pebble Beach. McIlroy has received similar criticism despite having not yet returned to competitive golf since finishing as runner-up at the South Africa Open in January, but admits he was intrigued by the meeting.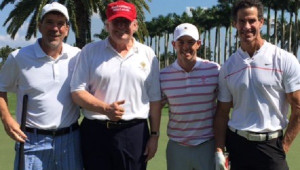 "I really got into it once Trump ran because I knew him a little bit but at the same time I was intrigued how a successful businessman could transition into running for the highest office in the land," McIlroy told The Guardian. "It is a totally different process from the UK. He obviously came at it from a completely different angle.
"I've said it to the man himself; on a Tuesday night at a tournament, if there was a live [political] debate, I would get room service, stick on CNN and just watch. It was pure entertainment, even if you didn't understand politics it was this complete phenomenon.
"Something like this probably won't happen again in our lifetime. I'm very attuned to it, I watch a lot of news. You can't avoid it. I had no interest in politics until a couple of years ago; now I can't seem to get away from it.
"I feel like I've stayed unpolitical in terms of Northern Ireland and all that goes on there but because I'm not an American I don't feel a real part of it; I'm just interested by the phenomenon of it all. I don't really care about the policies. The whole circus, this big show is intriguing to watch."
The four-time major champion is unlikely to be the last player on the PGA Tour to play with Trump, with an anonymous poll by The New York Times revealing that 89% of players would accept an invitation from the commander in chief.