Rotherham United booked their place in the League One playoff final after a 3-1 victory over Preston North End.
The Millers were level at 1-1 with Preston following the first leg of their semi-final but progressed to the showpiece Wembley final 4-2 on aggregate.
Victory against Leyton Orient would secure Rotherham their second consecutive promotion after they went up automatically last season.
The result was a boon for manager Steve Evans, whose controversial past has often overshadowed his side's on-field success.
During his spell at Boston United, Evans avoided being sent to jail after pleading guilty to charges of cheating public revenue which helped the club to promotion to the Football League.
Amid a string of charge from The Football Association, in 2012 he was accused of exposing himself to a female member of staff from Bradford City following his Crawley Town side's acrimonious match against the Bantams.
He was eventually given a six-match stadium ban and fined £3,000 after being found guilty of using abusive and insulting words and behaviour with a reference to gender.
Steve Evans - the world according to the Rotherham manager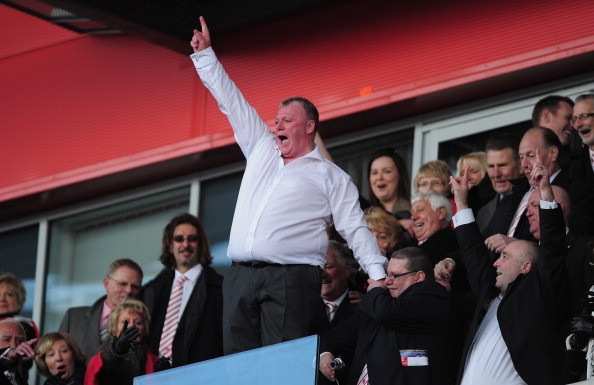 "I must have been talking to a Dutchman from Holland then" - after St Johnstone manager Tommy Wright denied Evans had mader a bid for a striker
"Before the cup runs that I had at my previous club I thought the FA Cup was rubbish" - Evans talks of his passion for FA Cup
"I've got a nice bottle of Rothschild red for him. It was expensive, so don't tell my wife. It's on the credit card. It's a proper bottle" - ahead of Crawley Town's FA Cup clash with Manchester United in 2011
"If there's a better goal in the playoffs, I'll wake up a chicken" - on Joe Garner's stunning goal for Preston North End against Evans's Rotherham
"I offered him the opportunity to give him a game for the Millers if I could go on stage with him on one of his tours" - on One Direction star Louis Tomlinson before Rotherham United's game against Doncaster Rovers Reserves
"I came out of the shower and this wasp attacked me inside my slipper. I had the greatest satisfaction in pummelling its head in for about 10 minutes to the point [where] I think I damaged the floorboards and now need to repair them." - on the his subtle approach to insect removal
"I've got no respect for their camp, I've got no time for the management team and I dislike them intensely, put that on the record" - Evans's on his admiration of Leyton Orient
"I tried to phone a football contact, Nicky Hammond, the director of football at Reading and I ended up talking to my daughter, Nicole. I thought 'it's the iPhone'. I have just realised my fingers are too big for the iPhone" - on the wonders of the iPhone