Kate Middleton and Prince William gave Prince George an early birthday present this year, when they visited the Royal International Air Tattoo in Fairford, Gloucestershire. Prince George, who turns three on 22 July, was treated to a seat in a Red Arrow jet plane, as well as meeting with one of the pilots.
On their arrival, the royal couple were greeted by Air Marshall Sir Kevin Leeson, the Chairman of the RAF Charitable Trust, Air Chief Marshall Andrew Pulford, Chief of the Air Staff, RAF and Carol Vorderman, who is Ambassador for the RAF Air Cadets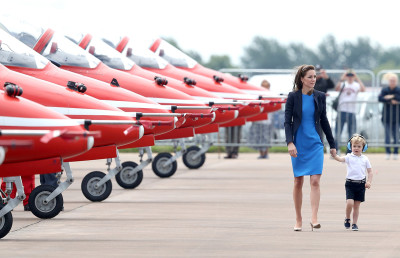 Both William and Kate have a strong relationship with the RAF, with William having served with the Search and Rescue Force while based at RAF Valley in Anglesey, while Kate is a patron of the Air Cadet Organisation.
Kate will attend the airshow stages official celebrations, marking the Air Cadets 75th anniversary, and will have the opportunity to meet some of the cadets.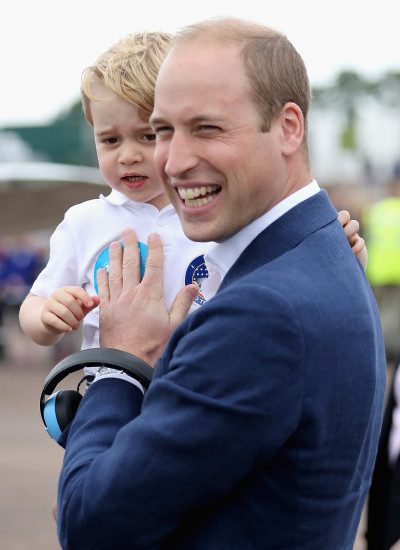 Prior to the airshow, Andy Armstrong, Chief Executive of RAF Charitable Trust Enterprises – who also runs the airshow – said it would be an honour to welcome the royal couple.
'I'm particularly pleased for the 1500-plus Air Cadets who'll be on-site, either helping us run the airshow or taking part in the 75th celebrations, and for the 2,000-plus volunteers who work so hard to make this amazing event happen. To have the Duke and Duchess of Cambridge with us effectively rewards all their efforts with a royal stamp of approval."
'To have the Duke and Duchess of Cambridge with us effectively rewards all their efforts with a royal stamp of approval.'