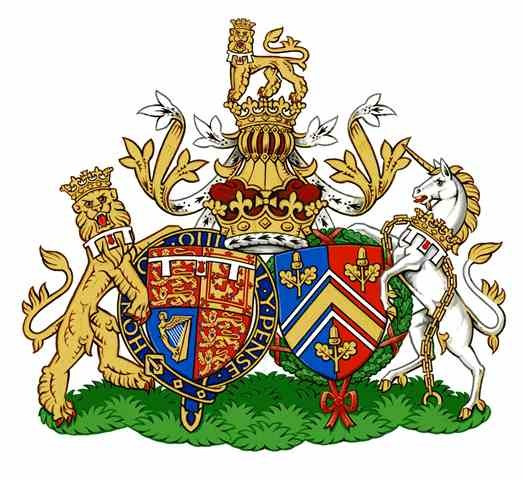 The union of the Duke and Duchess of Cambridge has been commemorated with the unveiling of a new conjugal coat of arms ahead of the christening of the couple's first child, Prince George, at St James's Palace on 23 October.
The conjugal coat of arms, created by London's College of Arms, features the MIddleton family motif of three acorns, symbolising their growth into mighty oak trees. Kate's father Michael designed the Middleton coat of arms in 2011.
The Middleton family coat of arms also includes two white chevrons designed to give the appearance of mountains, symbolising the family's love of skiing. However, nowhere on the coat of arms is there any representation of coal-mining, the occupation of Kate's recent ancestors.
The Windsor coat of arms has a somewhat longer heritage, its origins dating back nine centuries to Richard the Lionheart, who chose a shield of three lions to represent the three areas of the Crown, England, Normandy and Aquitaine.
As well as bearing the motto Honi soit qui mal y pense - Shame to those who think evil of it - William's design includes the three lions of England, the lion of Scotland and the harp of Ireland and a small red "scallop" to represent the coat of arms of William's mother, Princess Diana, who died in 1997 and who is the subject of a new film released in the UK this month..
A spokesman for Kensington Palace said: "The Conjugal Arms will be the couple's coat of arms forever, but parts of it could change as their own circumstances and roles change. It was approved by the Queen earlier this year and can now be shown publicly for the first time."
As well as being used on ceremonial occasions, the new Conjugal Coat of Arms could come in useful should Wills and Kate apply for the Conservative Party's proposed new tax breaks for married couples. Under the proposals, to be announced by David Cameron at next week's party conference, married couples will receive tax breaks worth up to £200 a year.