Royal Navy fires on Spanish patrol boat after it neared US nuclear sub off Gibraltar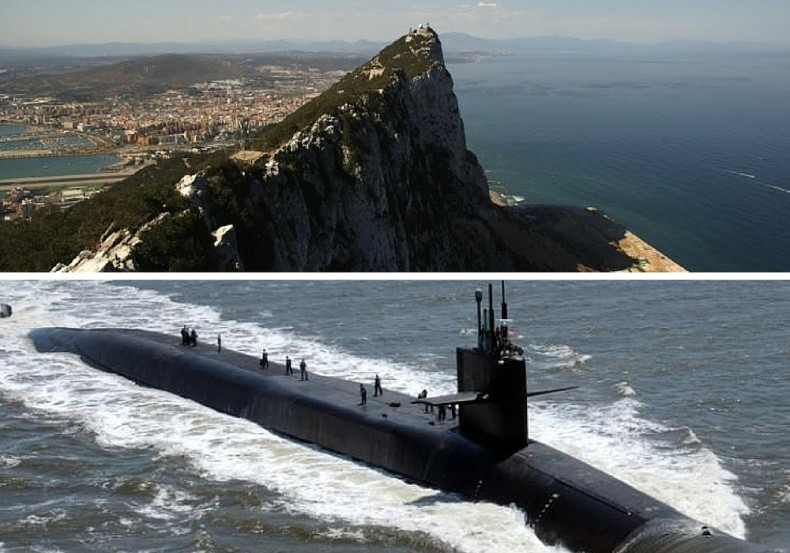 The British Royal Navy has fired flares to warn off a Spanish patrol boat after it persistently approached an American nuclear submarine off Gibraltar. The Royal Navy patrol boat HMS Sabre fired warning shots across the bow of the Guardia Civil vessel because it had twice tried to cut across the path of the USS Florida during an incursion into UK-controlled waters off the coast of Gibraltar.
This is the latest incursion by Spanish ships into UK waters which has left Gibraltar authorities and the Foreign Office frustrated by the perceived provocations. It is still rare for the Royal Navy to fire flares with just a few recorded occasions in the last two years.
After another recent incident Madrid threatened to shut down the British outcrop if the UK left the European Union. Spain has also warned it is ready to impose a strict new border tax, close its airspace to planes landing at Gibraltar's airport, and investigate Gibraltarians with Spanish economic interests.
One Naval source said in the Telegraph: "It just got too close and when it's a nuclear submarine, you get twitchy anyway. If you have responsibility for the protection of it, then you are going to take action much quicker than you might normally. The force protection measures worked and the vessel went away."
The dramatic incident was said to have happened in April as the American sub docked in Gibraltar. Britain has always taken seriously any incursion of Gibraltar's waters by the Spanish, which has had a centuries' long spat with the British over ownership of the 4km peninsula.
In April 2014, Spain's ambassador to the UK was summoned to the Foreign Office after a vessel strayed into UK waters. The British outpost, which sits on the southernmost tip of the Iberian Peninsula, has been a UK Overseas Territory since the Treaty of Utrecht in 1713.
In 2013 Spain, angry at the construction of an artificial reef which they said was adversely affecting its fishermen, tightened up border crossings between Gibraltar and the mainland. The checks resulted in huge queues both for Gibraltarians and for Spanish workers attempting to reach the territory.
A spokesman for the Ministry of Defence said they do not comment on nuclear submarine operations.