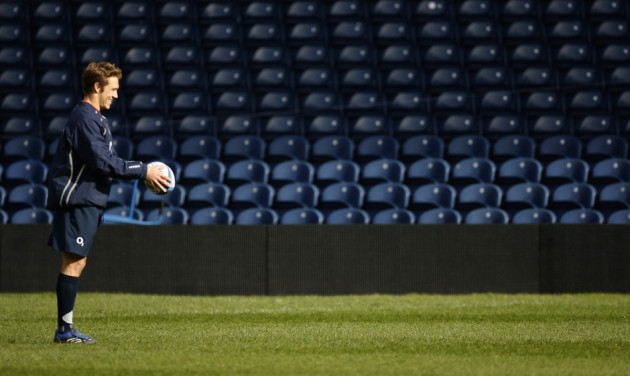 Jonny Wilkinson came through a light England training session Tuesday to provide manager Martin Johnson with some light relief ahead of the Rugby World Cup quarter-final against France.
Wilkinson injured his elbow against Scotland at the weekend but came through Tuesday's session untroubled and appears likely to feature against France Saturday.
However, doubts persist over centre Mike Tindall, who suffered a dead leg in Saturday's victory over Scotland and missed yesterday's session.
Johnson will name his squad to play France on Thursday morning, with Shontayne Hape or Matt Banahan set to deputise should Tindall fail to recover.
Meanwhile, concerns over England's conduct at this year's tournament intensified Monday night after Manu Tuilagi was fined NZ 10,000 (£4,800) by World Cup officials for wearing a sponsored mouthguard.
Tuilagi wore the Opro mouthguard in England's victories over Argentina and Georgia and officials admitted the breach Tuesday.
"Manu wore a mouthguard where the branding was visible in the Georgia match when it shouldn't have been so therefore he's been fined NZ 10,000," a Rugby Football Union spokesman said.
"It was a genuine error and he's trying now to focus on Saturday's game."
The England centre, whose elder brother Alesana was reprimanded for the same offence last week, insisted it was an unintentional transgression.
"I didn't know I had worn the wrong gumshield and I got fined for it," Tuilagi told The Telegraph.
"We always wore the same mouthguard, mine is the England one from the under-18s but it's got 'Opro' on the front and that's not allowed in the World Cup.
"I coloured it in with marker pen for the Romania game. I wore it against Argentina but they didn't know."