Russell Brand Stages 'Topless Protest' in Parliament Square Calling for 'Joyful Revolution'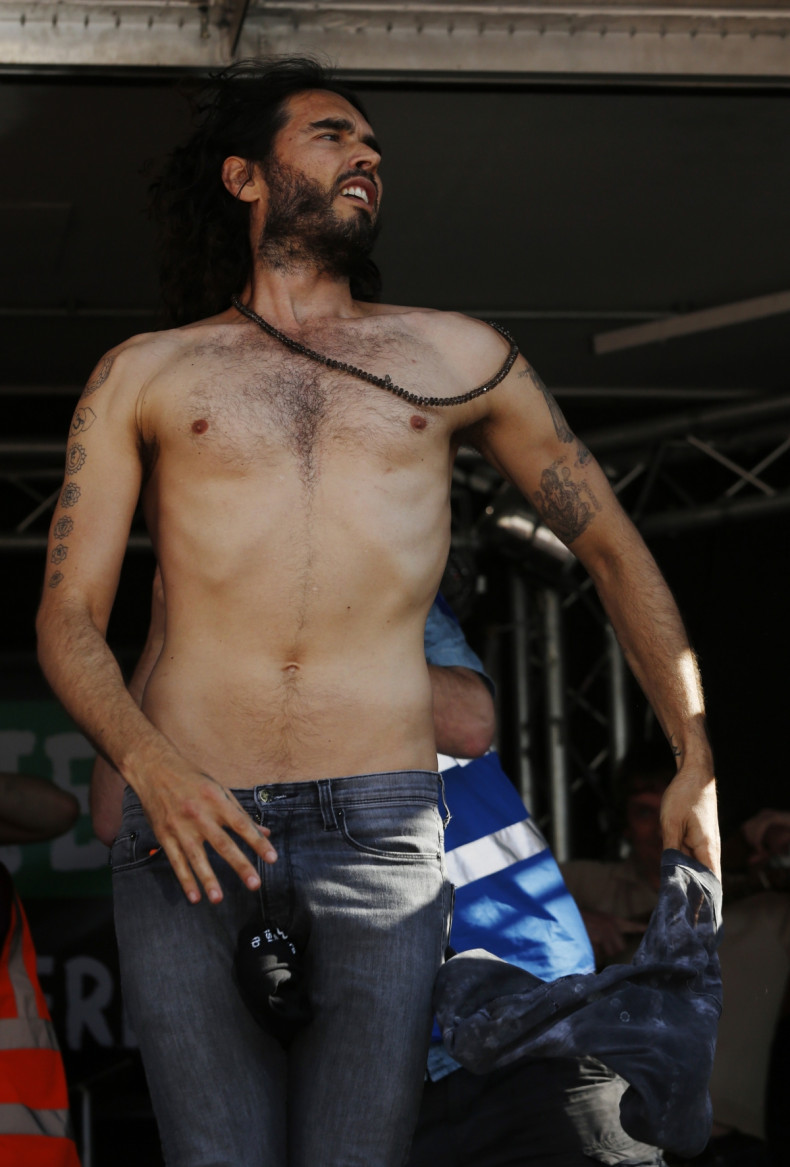 Russell Brand has staged a "topless protest" in London's Parliament Square.
The comedian, who is famed for his political rhetoric, has called for a "peaceful, effortless, joyful revolution."
The Forgetting Sarah Marshall star was participating in a march marking the one-year anniversary of the formation of the People's Assembly.
50,000 people took part in the march and Brand was joined by several speakers who included comedian and commentator Mark Steel, MP Caroline Lucas and journalist Owen Jones.
Brand called for the public to seize power from the political establishment, claiming that MPs no longer represented the people.
"The people of this building (the House of Commons) generally speaking do not represent us, they represent their friends in big business," he said.
"It's time for us to take back our power. This will be a peaceful, effortless, joyful revolution and I'm very grateful to be involved in the People's Assembly.
""Power isn't there (in the House of Commons), it is here, within us. The revolution that's required isn't a revolution of radical ideas, but the implementation of ideas we already have."
As the crowd gathered around him, Brand stripped off his T-shirt and acquiesced to demands to replace it with another bearing the slogan "Firefighters rescue people not bankers. See, I've given you even my vanity," he said.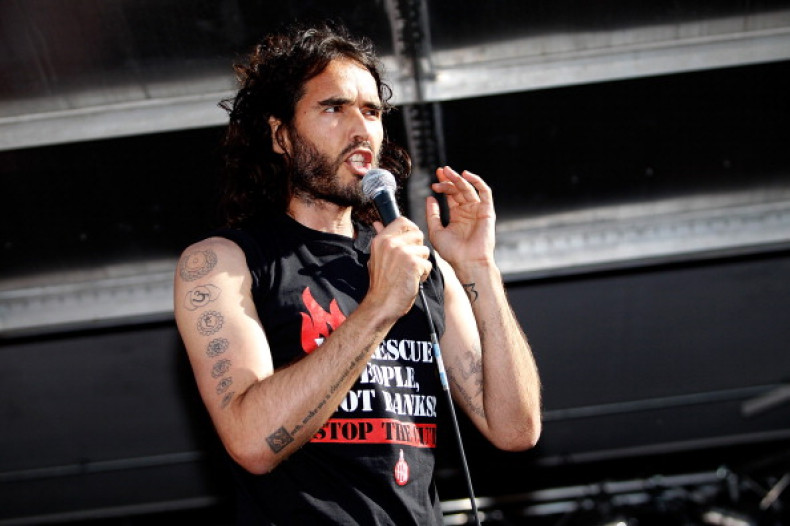 National secretary of the People's Assembly, Sam Fairbairn said the people's protest will escalate in response to government cuts.
"Make no mistake, these cuts are killing people and destroying cherished public services which have served generations. Alongside May Day demonstrations in memory of the legendary Bob Crow, who helped launch the People's Assembly, and Tony Benn, who was Assembly president when he died, we are now turning up the heat on Cameron and Clegg.
"Later this autumn, we will unite with the trade union and labour movement when it holds another monster march against austerity and the ConDems. Soon we will reach a size and influence where neither the BBC nor this austerity Government will be able to ignore us."
Meanwhile, the Forgetting Sarah Marshall star who is dating heiress Jemima Khan, has been derided for being a hypocrite in view of his own lavish lifestyle. X Factor judge and music mogul Simon Cowell reportedly said the comic actor should give away his fortune as part of his revolutionary plans.
Brand explained: "I obviously face accusations of being part of the 1% (of the country's wealthy elite) myself but I wasn't designed in a laboratory with Jimmy Carr and Adele, I'm from Grays in Essex. Where I grew up I felt there were low expectations."
The 39-year-old, who is frequently at the centre of controversy, also faced criticism last year for his comments in an article in the New Statesman, in which he urged the public not to vote.
"I will never vote and I don't think you should, either." He reiterated the message during a debate on BBC's Newsnight.
The People's Assembly aims to stage the biggest protest in British history later this year.