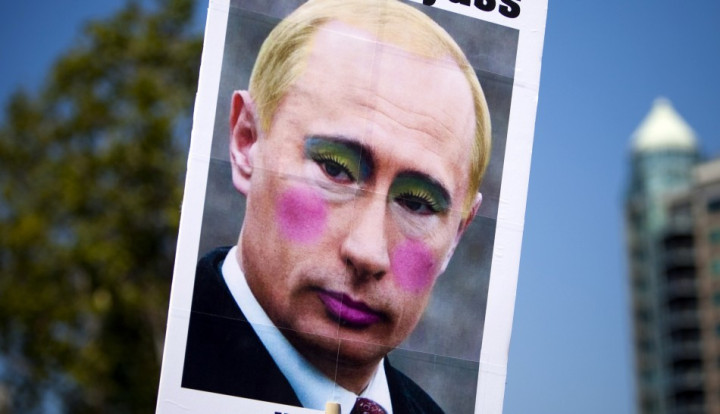 Vladimir Putin has banned all demonstrations and rallies in Sochi for 10 weeks around the 2014 Winter Olympics.
The Russian president signed a decree that lists an array of measures put in place to tighten security around the games.
Rossiyskaya Gazeta, the official government newspaper, said all "gatherings, rallies, demonstrations, marches and pickets" not part of the official Olympics or Paralympics will be banned between 7 January and 21 March.
The extreme move follows the introduction of anti-gay laws that make it illegal to "promote" homosexuality and the backlash that has met the legislation.
The laws have attracted widespread global criticism, with Stephen Fry and others calling for a boycott of the games. Fry wrote an open letter to David Cameron, Sebastian Coe and the International Olympic Committee comparing Putin to Adolf Hitler.
"An absolute ban on the Russian Winter Olympics of 2014 on Sochi is simply essential," he wrote. "Stage them elsewhere in Utah, Lillehammer, anywhere you like. At all costs Putin cannot be seen to have the approval of the civilised world.
"He is making scapegoats of gay people, just as Hitler did Jews. He cannot be allowed to get away with it."
But Cameron responded: "I believe we can better challenge prejudice as we attend rather than boycotting the Winter Olympics".
Russia was also snubbed by Hollywood actor Wentworth Miller, who turned down an invitation to the St Petersburg International Film Festival.
"As someone who has enjoyed visiting Russia in the past and can also claim a degree of Russian ancestry, it would make me happy to say yes. However, as a gay man, I must decline," Miller wrote.
The Olympics are due to be held between 7-23 February, while the Paralympics will be held from 7-16 March.
Other measures contained in the legislation include a restriction on vehicles entering the city. Only cars with local number plates, emergency vehicles and those accredited by the Olympic organisers will be allowed into the city.
The International Olympic Committee received a letter from Dmitry Kozak, Russia's deputy prime minister, assuring members that the hosts would comply with the rule against discrimination of any kind but then insisted that anti-gay laws would be enforced throughout the Games.