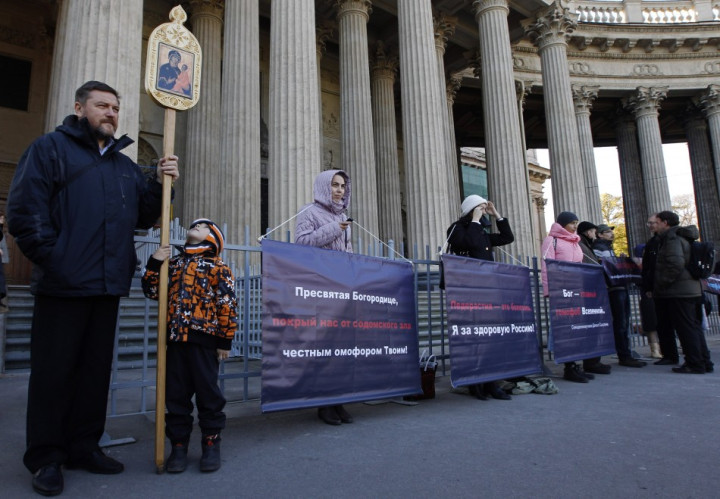 Russian parliament is expected to give initial approval to a bill that will outlaw "propaganda of sodomy, lesbianism, bisexuality and transgenderism" targeted at minors.
Acts of open same-sex affection, even a kiss, and events promoting gay rights will result in fines of up to $16,000 anywhere in the country for those found guilty of infringing the new legislation. St Petersburg and other Russian cities already have similar laws on their books.
Madonna was fined in August for speaking out in favour of gay rights in St Petersburg after the city government passed legislation - dubbed which she dubbed a "ridiculous atrocity" - that imposed fines for spreading "homosexual propaganda" that could "damage the health, moral and spiritual development" of minors.
Civil rights activists said a nationwide law could be used to halt gay rights demonstrations and oppress the LGBT community. Although homosexuality was decriminalised in Russia in 1993, prejudice against it remains high.
The bill, backed by the Kremlin and the Orthodox Church, is part of a concerted effort to promote what are deemed traditional Russian values in contrast with Western liberalism. Recent legislation has banned websites and print publications regarded as extremist and risk corrupting Russian youths.
The nationwide anti-gay propaganda bill has been met with indifference in a country where two thirds of the population find homosexuality "morally unacceptable and worth condemning," according to a poll conducted by Levada in 2012. Half of the Russians are against gay demonstrations and same-sex marriage; a third of them think homosexuality is the result of "a sickness or a psychological trauma".
Promoters of the bill say minors need to be protected from "homosexual propaganda".
"This propaganda goes through the mass media and public events that propagate homosexuality as normal behaviour," the bill reads.
Russian MPs have blamed homosexuals for causing Russia's low birth rates and say they should be barred from government jobs, undergo forced medical treatment or be exiled, according to AP.
Pavel Samburov, the founder of gay rights activist collective the Rainbow Association, who was fined $16 for kissing his boyfriend in public, claimed the bill was part of a wider crackdown on minorities in the country.