Are Russia's Drivers the Worst in the World? [VIDEO]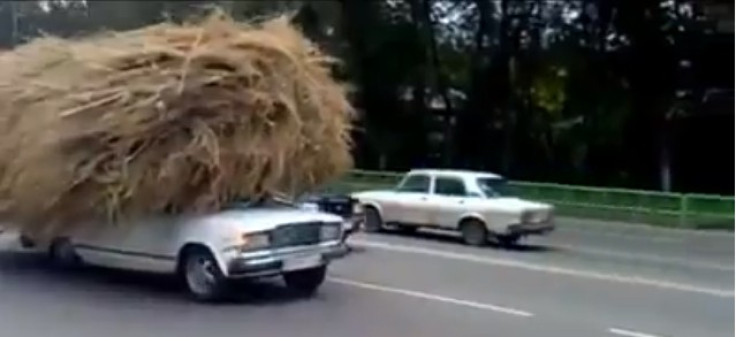 The worst driving on the roads of the Russian Federation has been exposed in a 13-minute YouTube video.
Highlights include a horse on a zebra crossing, a motorist driving down the street with the fuel nozzle from a filling station still attached, a mobile haystack (above), and a plethora of weaving, skidding and high-speed collisions.
Car ownership in Russia has grown rapidly since the end of communism, rising from 202 vehicles per 1,000 population in 2004 to 271 per 1,000 in 2011, according to the World Bank.
The video, below, suggests that driving habits have failed to change as the roads have become more crowded. They may face treacherous road conditions, but Russian drivers often flout drink-driving laws, or drive cars that are not roadworthy.
In 2009, the last year for which there are accurate figures, there were 160,000 reported road accidents in Russia, and 20,000 fatalities. Police said that 10,000 accidents were caused by drink-driving. The accident figure is approximately 2.5 times that of Japan, which has a comparable population but a far higher rate of vehicle ownership.
The Russian Federation has by some distance the most dangerous roads in Europe.
Watch the video below to see why.
© Copyright IBTimes 2023. All rights reserved.