Russia's foreign minister has maintained that allegations that the country engaged in cyberwarfare to undermine Western elections are baseless.
Sergey Lavrov made the comments at the annual Munich Security Conference on Saturday (18 February) where Russia was the subject of severe criticism about the subject from a number of international leaders.
In the run-up to the US elections, Russia was suspected of hacking the Democratic National Committee's email servers and providing its contents to Wikileaks, in releases known as the Podesta emails.
"For some reason, when we are accused of anything, no facts are presented," Lavrov said, speaking through an interpreter. "I am saying once again: give us the facts."
"Not a single fact addressed to Russia while there are facts, pointing to the other direction to the source of that illegal activity."
The "illegal activity" Lavrov was referencing was in relation to revelations that came from Wikileaks on Thursday (16 February) which showed the Central Intelligence Agency (CIA) issued spying orders against all political parties involved France's 2012 presidential elections.
He added that Western leaders were stuck in a Cold War mentality about relations with Russia and blamed Nato's expansion on its eastern border for much of the tension.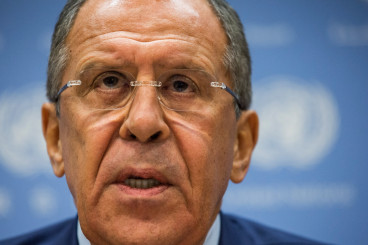 Lavrov said the West's "obsession" with cyberespionage was similar to its outlook on the Ukraine crisis, in which Russia was held solely responsible for escalations in tensions.
In spite of the sharp comments, Lavrov said Russia was committed to fostering a "pragmatic" relationship with the US.
"What kind of relations do we want with the US? Pragmatic relations, mutual respect, understanding our special responsibility for global stability," Lavrov said. "We have immense potential that has yet to be tapped into, and we're open for that inasmuch as the US is open for that as well."
He also called for a world order which balanced international law and national interests.
"Responsible leaders should make a choice. I hope that the choice will be done in favour a creating a democratic and just world order," Lavrov said.
"If you want, you can call it a post-West world order when each country, based on its sovereignty within the rules of international law, will strive to find a balance between its own national interests and the national interests of partners."