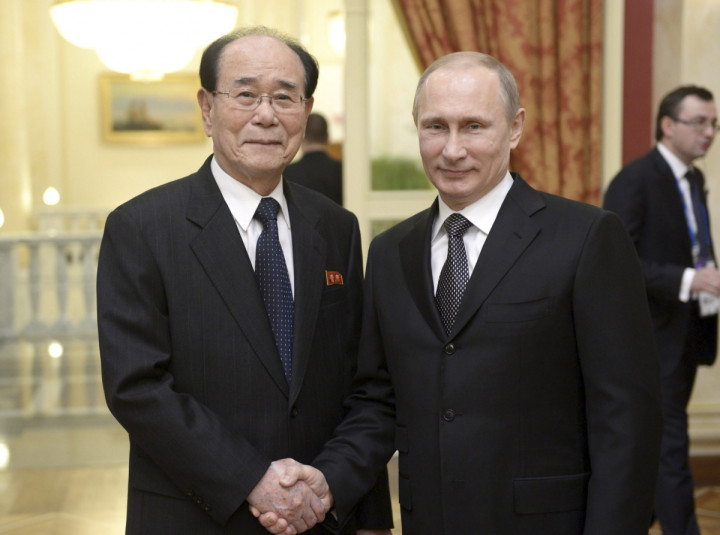 North Korea and Russia have agreed to settle trade in Russian roubles, instead of US dollars.
It marks the latest move from Russia to diversify its trading partners following the Ukraine crisis and the subsequent chill in relationships with the west.
It also rounds off a remarkable few weeks for North Korea's economy.
North Korea will also ease its visa regime for Russian citizens and activate mobile and internet services for Russian business executives.
North Koreans will now be permitted to open accounts in Russian banks.
Last week, Russia signed into effect the Eurasian Economic Union, a tripartite free trade area with Belarus and Kazakhstan.
This followed the signing of a landmark natural gas deal, whereby Gazprom agreed to provide China with $400bn (£238bn, €293bn) worth of gas over 30 years.
Speaking to Russia's state-owned newswire RIA Novosti, minister for Russia's Far East development Alexander Galushka said that bilateral trade with North Korea rose by 64.2% to $112.7mn in 2013 and that he had "set an ambitious goal to increase mutual trade by 2020 to $1bn".
North Korea, long since the ultimate pariah of the international financial markets, has hit the headlines in recent days and weeks, unusually, for reasons pertaining to international trade.
In May, the country announced record external trade volume. International trade (excluding trade involving South Korea) reached $7.34bn, up 7.8% on the previous year. Exports of minerals to China accounted for the bulk of the increase, particularly coal, iron ore, copper, and aluminium.
Last week, North Korea reached a provisional agreement with Japan which will see some sanctions eased one year from now if the north investigates fully its state kidnapping of Japanese citizens.
Japan outlawed any bilateral trade with North Korea in response to Pyongyang's ostensible nuclear ambitions.
Earlier in May, Vladimir Putin signed a decree waiving 90% of North Korea's debt to Moscow, much of which was a hangover from the Soviet era.
Throughout the 1960s, 70s and 80s, Russia was the primary financial backer of the Kim regime in North Korea, acting as it did as a buffer between the communist bloc and the US-influenced capital South Korea.
For many years, spurred on by Russian and Chinese capital and resources, North Korean growth outstripped that of the south.
Indeed, the north was viewed as being more prosperous than its rival until 1972, when the economic reforms of autocratic ruler and industrialist General Park Chung-hee (father of current Korean president Park Geun-hye, saw South's GDP growth overtake it for the first time.
Since then, South Korea has become a regional manufacturing and exporting superpower. Its chaebol ("conglomerate") companies such as Samsung, Hyundai and LG are some of Asia's largest and most successful companies.
The north, on the other hand, is impoverished. Malnutrition is rife and human rights abuses frequent.
This round of trade announcements and statistics, however, will be no doubt greeted warmly by powerful figures in Pyongyang.