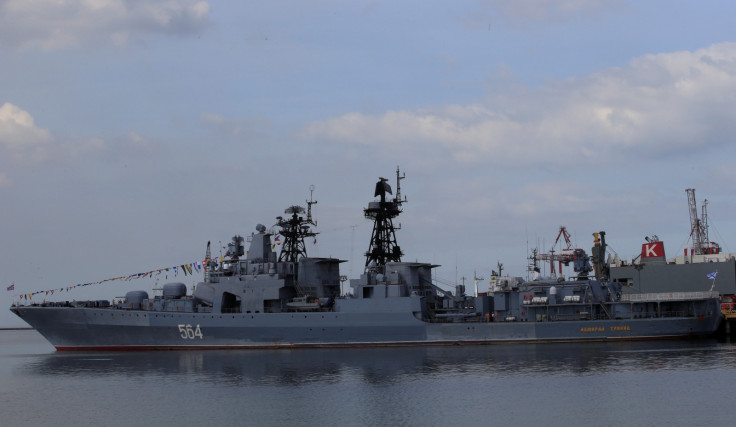 Russia expressed an interest to supply sophisticated arms including submarines and aircraft to the Philippines and become a close ally to the Southeast Asian country as it looks to diversify its foreign relations, the Russian ambassador to the Philippines said on Wednesday, (4 January).
Two Russian warships are on a four-day visit to the capital Manila this week, which is reportedly the first navy to navy contact between the two countries.
"It's not a choice between these partners and those ones. Diversification means preserving and keeping old traditional partners and getting new ones. So Russia is ready to become a new reliable partner and close friend of the Philippines," Ambassador Igor Anatolyevich Khovaev said at a news conference on board the anti-submarine vessel Admiral Tributs
"We don't interfere with your relations with your traditional partners and your traditional partners should respect the interest of the Philippines and Russia," he added.
Philippines President Rodrigo Duterte had earlier raised questions on the ties between the United States and the Philippines in angry outbursts against the western superpower. He had indicated he would scale back military ties while taking steps to strengthen links with China and Russia.
Khovaev added that Moscow has a range of weapons to offer. "We are ready to supply small arms and light weapons, some aeroplanes, helicopters, submarines and many, many other weapons. Sophisticated weapons. Not the second-hand ones.
"Russia has a lot to offer but everything will be done in full compliance with international law," he stated. He also noted that it is far too early to comment on the scope of military co-operation but said that old allies need not worry.
"Your traditional partners should not be concerned about the military ties ... If they are concerned, it means they need to get rid of clichés."
On Tuesday, Rear Admiral Eduard Mikhailov, head of the Flotilla of Russian Navy Pacific Fleet said that Russia wanted to hold maritime exercises with the Philippines to help fight terrorism and piracy.
The US and the Philippines have been holding annual naval exercises but Duterte reportedly decided to bring down the number and move navy drills away from South China Sea.