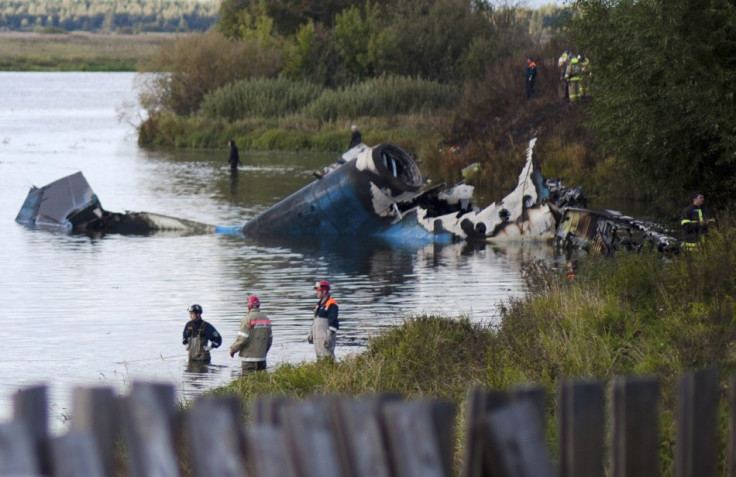 Russia is in mourning after a Yak-42 plane carrying three-time Russian champions Lokomotiv Yaroslavl - a popular team Hockey team crashed on Wednesday near Yaroslavl, 185 miles northeast of Moscow.
Russian President Medvedev acknowledged a string of Soviet-era planes had recently crashed, causing him to consider switching to foreign-made planes, on a visit to the crash site in the rundown village of Tunoshna that Russia.
"This is a shock for the entire country," said Mr Medvedev adding "I've given an order to the Investigative Committee and the government to conduct a thorough investigation."
President Medvedev warned that despite Russia's industrial ambitions for development, if the country cannot produce reliable aircraft, it would be forced to buy foreign-made planes.
Two accidents involving Tu-134 and An-24 jets have killed a total of up to 50 people which led Medvedev to call for those aircraft to be retired in the coming months.
"The value of human life is above all the other considerations. I will give an order to the government and they will have to find the money. It will be an extensive programme."
Medvedev's shift of position will come as blow for Prime Minister Vladimir Putin, who has in the past insisted Russian carriers buy Russian-made aircraft to a bid support domestic producers and domestic economy.
Two persons, including a Russian hockey player who is now in critical conditions have survived the crash which official blamed on a mix of human error and technical malfunctions.
"The number of aviation companies should be drastically decreased and it should be done in the shortest possible time," Medvev said.
Medvedev had planned to go to Yaroslav this week for a political conference before the crash to place but his visit took an unexpected turn after the tragedy.
Surrounded by local thousands residents and supporters of the team who came to the site to pay their respect Medvedev said "Of course, it is hard to speak after such events," Medvedev said as he asked the audience to honour the crash victims with a moment of silence.