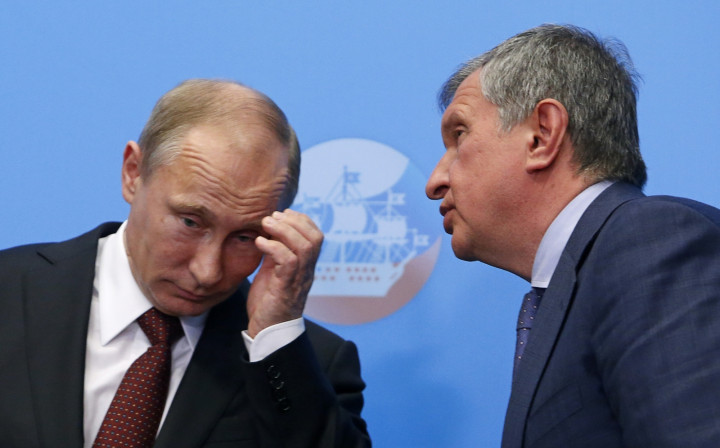 Russia's Prime Minister Dmitry Medvedev has said the state-controlled oil giant Rosneft could receive 1.5tn roubles ($40.6bn, £25.1bn, €31.3bn) in financial assistance from the state, according to reports in Russian media.
The company's chief Igor Sechin asked the National Wealth Fund for assistance in August as the company reeled from sanctions imposed by the United States and the European Union over the Ukraine crisis.
Rosneft was subjected to sanctions by the US on July 16, which restricted the company's access to American financial markets. The European Union is expected to pass similar measures as soon as this month.
While Russian officials had criticised Rosneft's plans to raise money from the state, the prime minister told a Russian newspaper that the company might receive the $40bn from the state.
"This figure only looks imposing, but everything doesn't have to be done in one year. I recently held a meeting on Rosneft's investment programme: the company needs to maintain its production levels, because Rosneft is a major source of tax revenue," Medvedev said, as quoted by Vedomosti newspaper.
"As such, we should help it maintain its level of investment. We are now considering specific variables and types of support," he added.
The state-run oil giant pumps 40% of the country's oil. It is due to repay $12bn by the end of the year and another $17bn by the next year-end, after borrowing to raise funds for last year's acquisition of TNK-BP.
A number of companies targeted by western sanctions have already been given access to finance from the sovereign wealth fund.
The US and the EU first imposed sanctions on individuals and companies with close ties to the Kremlin after the annexation of Crimea in March. The allies have since passed a raft of economic penalties against Russia, saying Moscow is backing the separatist rebellion in eastern Ukraine.
A ceasefire has been agreed in the east of the country, although doubts remain as to its long term sustainability, amid outbreaks of violence.