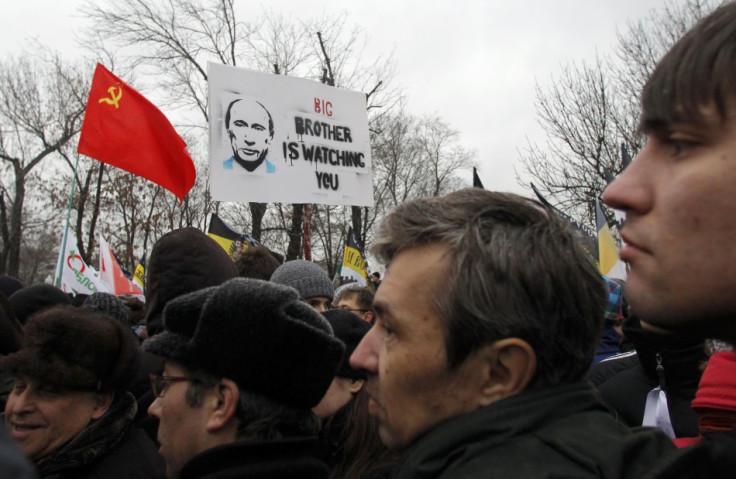 Russia's parliamentary election results will stand despite widespread claims of corruption, the government declared Monday.
Voters in their thousands have called for the vote for the State Duma, the lower house of parliament, held on Dec. 3 to be annulled as Prime Minister Vladimir Putin's United Russia party was accused of widespread fraud.
A number of undercover videos were published online appearing to show ballot stuffing, the falsification of ballots by election officials and erasable ink used in voting stations. The election saw United Russia barely retain a greatly reduced majority.
The opposition showed its discontent with a weekend of protests in more than 50 cities, and protesters have vowed to return in two weeks if their demand for a new election is not met.
Although Putin's spokesmen have promised to "continue to listen" to demonstrators, it appears a new election is unlikely.
"Even if you add up all this so-called evidence, it accounts for just over 0.5 per cent of the total number of votes," spokesman Dmitry Peskov told AFP news agency.
"So even if hypothetically you can recognise they are being contested in court, then in any case, this can in no way affect the question of the vote's legitimacy for the overall results."
Politicians have not been scared to weigh into the debate, with former Soviet President Mikhail Gorbachev joining the calls for an annulment of the election and President Dmitry Medvedev prompting ridicule after denouncing the protests on Facebook.
"People have the right to express their views, which is what they did yesterday," Medvedev posted.
"I don't agree with the slogans or the declaration that rang out at the meetings. Nevertheless, instructions have been given by me to check all information from polling stations regarding compliance with the legislation on elections."
Despite pledging an investigation of the election, Medvedev's comments received a fierce backlash from Russia's increasingly enraged voters, who posted mocking responses in their thousands.
Another mass demonstration is expected Monday, as thousands rally in Moscow to show their support for Putin and Medvedev.
"I am happy - 10 December 2011 will go down in history as the day the country's civic virtue and civil society was revived. After 10 years of hibernation, Moscow and all Russia woke up," said opposition leader Boris Nemtsov in his blog.