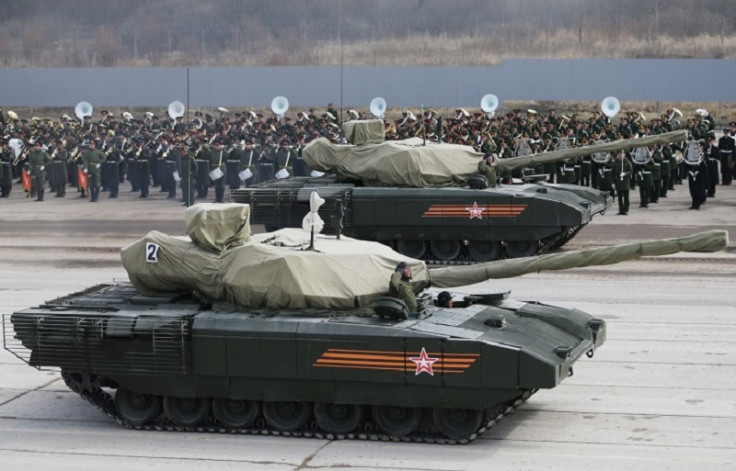 Russia has displayed its new Armata T-14 tank during final practices for the Victory Day parade that will take place in Moscow on Saturday 9 May.
The parade commemorates 70 years since the end of the Second World War and the Allied defeat of Nazi Germany. The tank has been rolling through the streets of Moscow in rehearsals for the past week.
The Armata is the first new tank Russia has come up with since the fall of the Soviet Union. Previously, the military had tweaked and updated old Soviet-era tanks.
"It says something about Russian military-industrial capacities, which is one reason why they're willing to make a big splash of it," Mark Galeotti, professor of global affairs at New York University, told Newsweek.
The Armata tanks, which are due to start rolling off the production lines in 2016, are the first tanks to include a remote-controlled armed turret "to deal with various targets, including low-flying aerial targets, such as attack planes and helicopters," Russia Today reports.
Oleg Bochkarev, a deputy chairman of the board of the Russian Defence Industry Commission, told the Itar-Tass news agency: "We will complete the development of this tank by mid-2016. Trials will be conducted in 2016. We are now at the stage of preliminary tests.
"Machines we will see at the Victory Parade will be the first in a batch that is to go the army for trials by the year end," he said, adding that said about 100 such tanks would be tested.
The crew is in an armoured capsule at the front of the tank's hull, while the turret remains unmanned. "In that respect, the Russians have leapfrogged into the next generation of design," said Galeotti.
However, said Galeotti: "There are still questions. The Russians are good at proclaiming new breakthroughs. Almost all of these new weapons systems over the past 10 years have actually come out late."
Tanks are also relative dinosaurs in the age of modern warfare. While they look good in a parade and are large and intimidating, spying, drones, well-trained light infantry and cyberwarfare will form the battlefields of the future, Galeotti added.