In May 1945, Berlin was a war zone. Everyday life in the capital of Hitler's Third Reich had broken down. Bombed-out streets, no gas or electricity, a daily fight for food. At night sirens howled to signal bomb attacks, driving citizens into shelters.
The Allied forces had intensified their aerial bombardment so much that most of the city lay in ruins. The Red Army was approaching from the east; around 2.5 million Soviet soldiers and 6,250 tanks were closing in on Hitler. On 2 May 1945, Berlin capitulated, effectively ending World War Two in Europe.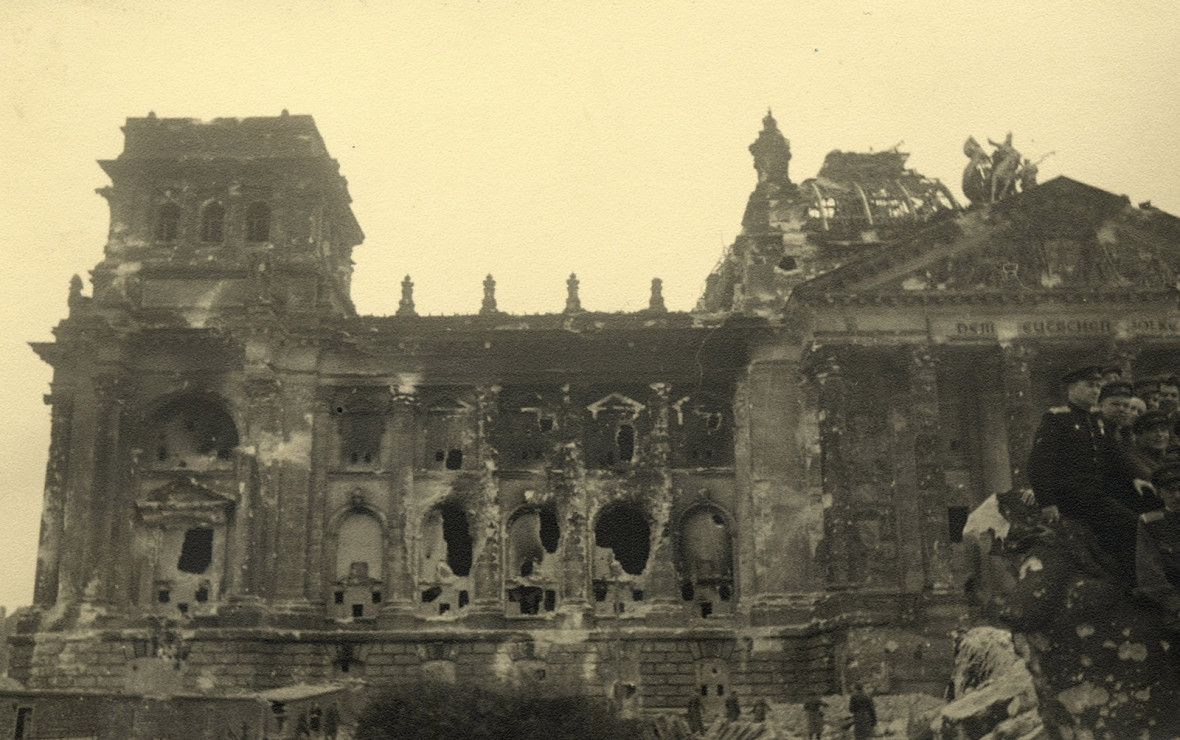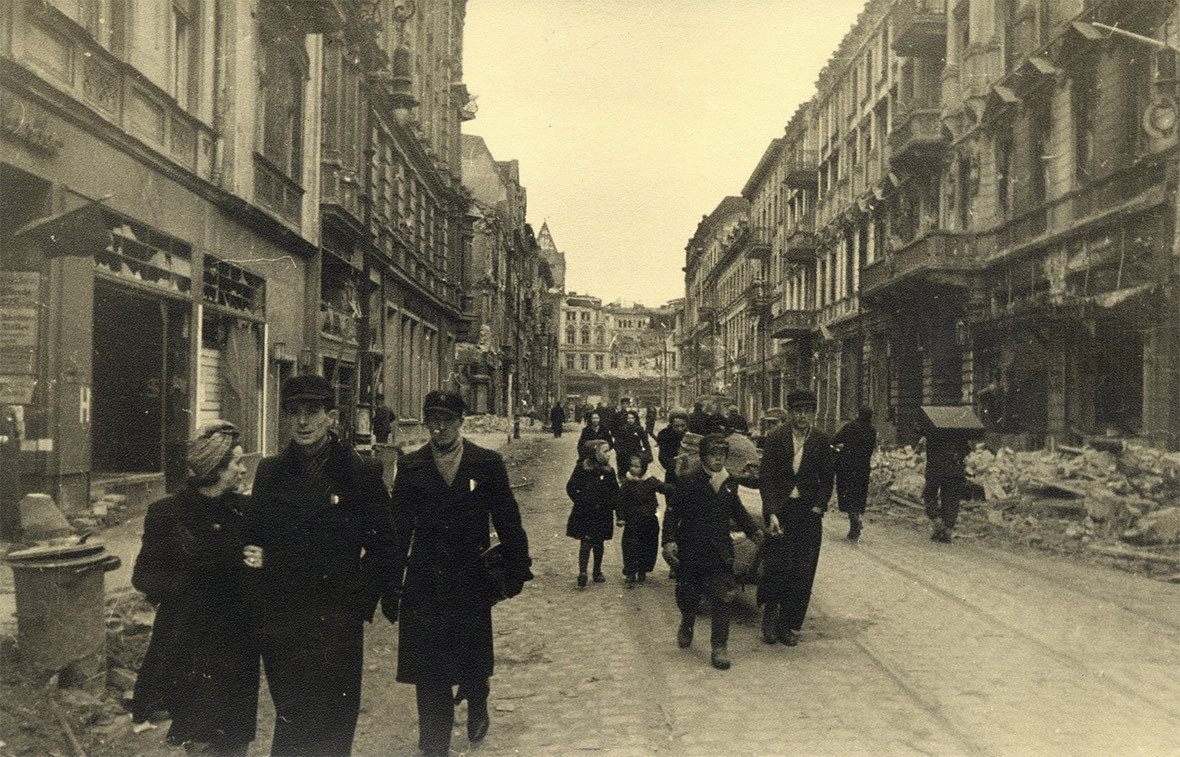 As the 70th anniversary of the Battle of Berlin approached, Reuters photographer Fabrizio Bensch visited the Military History Museum in Dresden to research a "then and now" photo story. He came across pictures taken by a Russian army photographer named Georgiy Samsonov as Soviet troops entered the city.
Bensch takes up the story: "Many questions arose. Where were those pictures taken? Do the buildings, streets and landmarks still exist? Where did he stand to take the picture? Can the picture be recreated now, showing how the area has changed?
"His captions didn't say much about geography – beyond what the picture showed – so I had to place where 'the bombed out street in Berlin' was.
"Maps of battalion routes gave me an insight into where he entered Berlin and helped me discover that most of his shooting focused on the Frankfurter Allee main road and its surroundings, as they passed from the north-east into the city centre. That at least gave me an area to explore.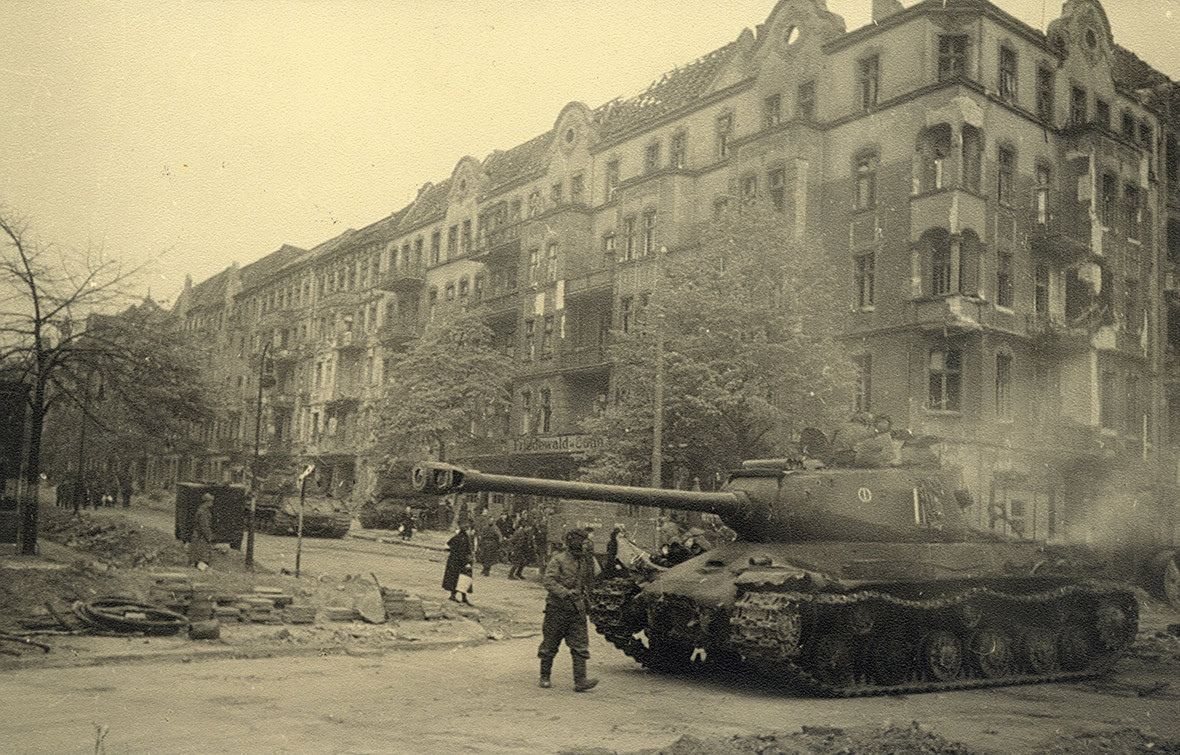 "I used old phone directories, address books, street maps, aerial views, similar photos, Google Earth and Streetview to pinpoint the exact locations. This painstaking work kept me awake a few nights.
"I looked at specific aspects of Sansonov's pictures: zoomed in on street and shop names to place his movements; was a simple train barrier a clue? If there was a church tower, what was the church? One time, after a few hours of research, I found out at 3am that the church I was seeking no longer existed.
"I also found a picture that shows Samsonov with his FED camera, a Soviet copy of the German-made Leica II. This gave me the idea to photograph not just the same images, but to use the same technology. Thanks to Ebay I found and bought the exact same camera.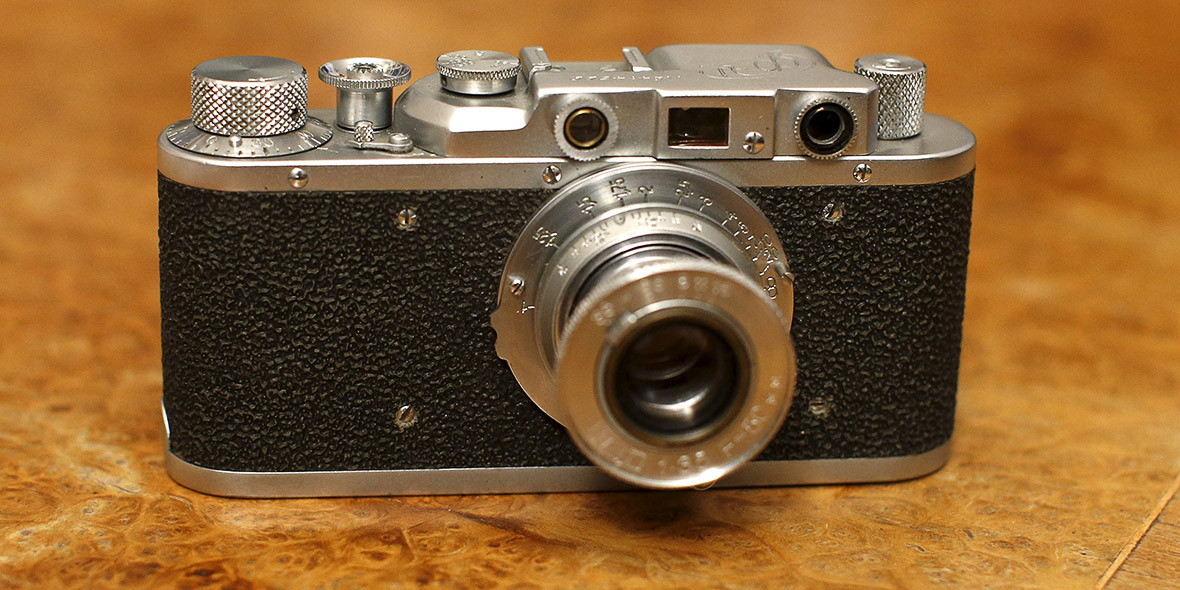 "With locations and the camera, I started to capture Samsonov's exact perspectives in modern-day Berlin. This wasn't as easy as I thought: with streets renamed, renumbered or moved entirely, I had to stand in the middle of the road if I wanted the exact same perspective today. I had to compromise sometimes to get an approximate image, not the exact equivalent.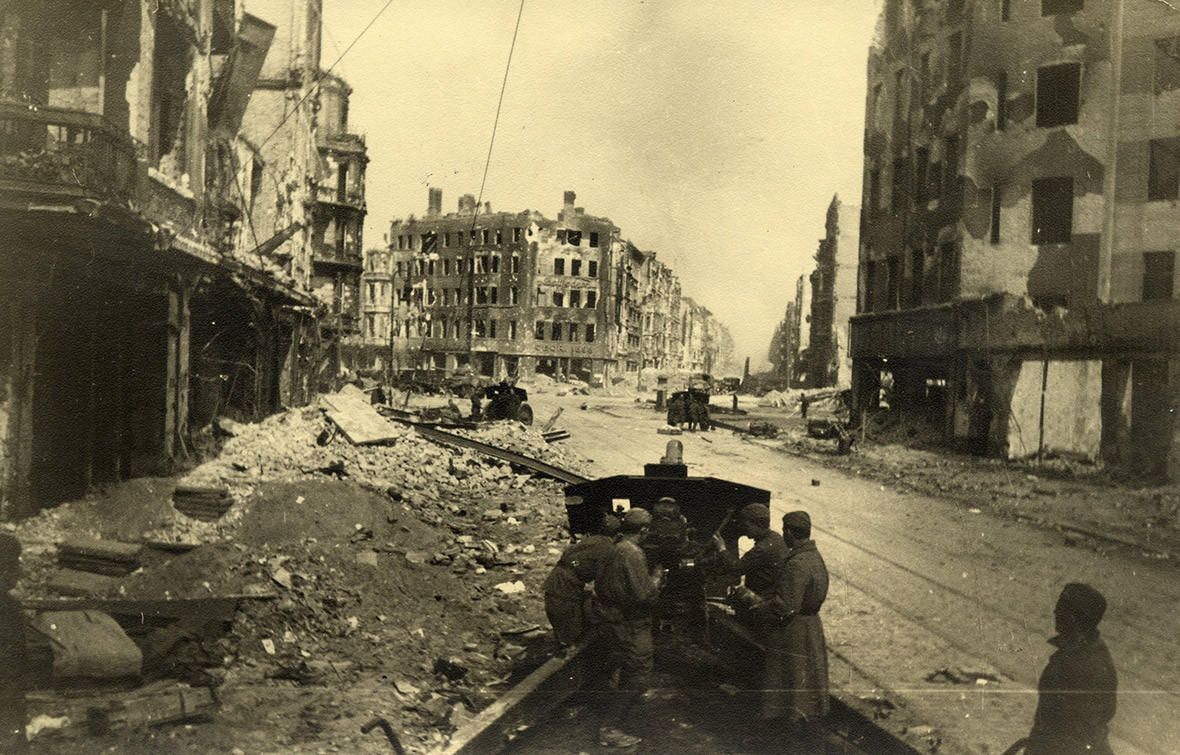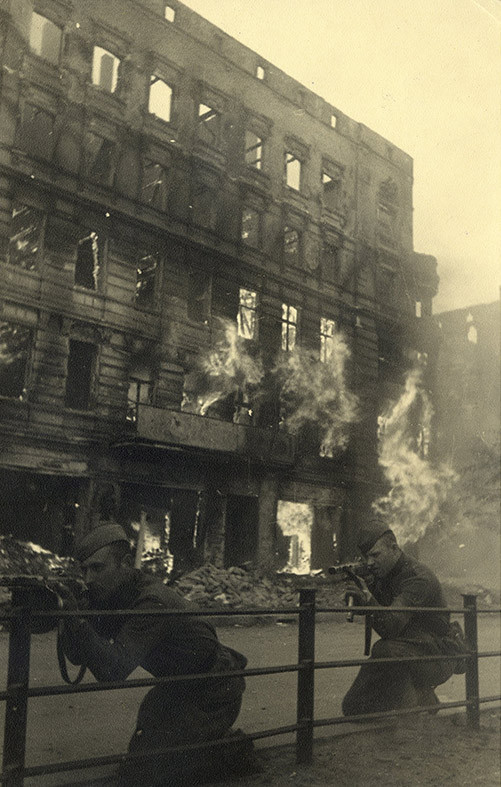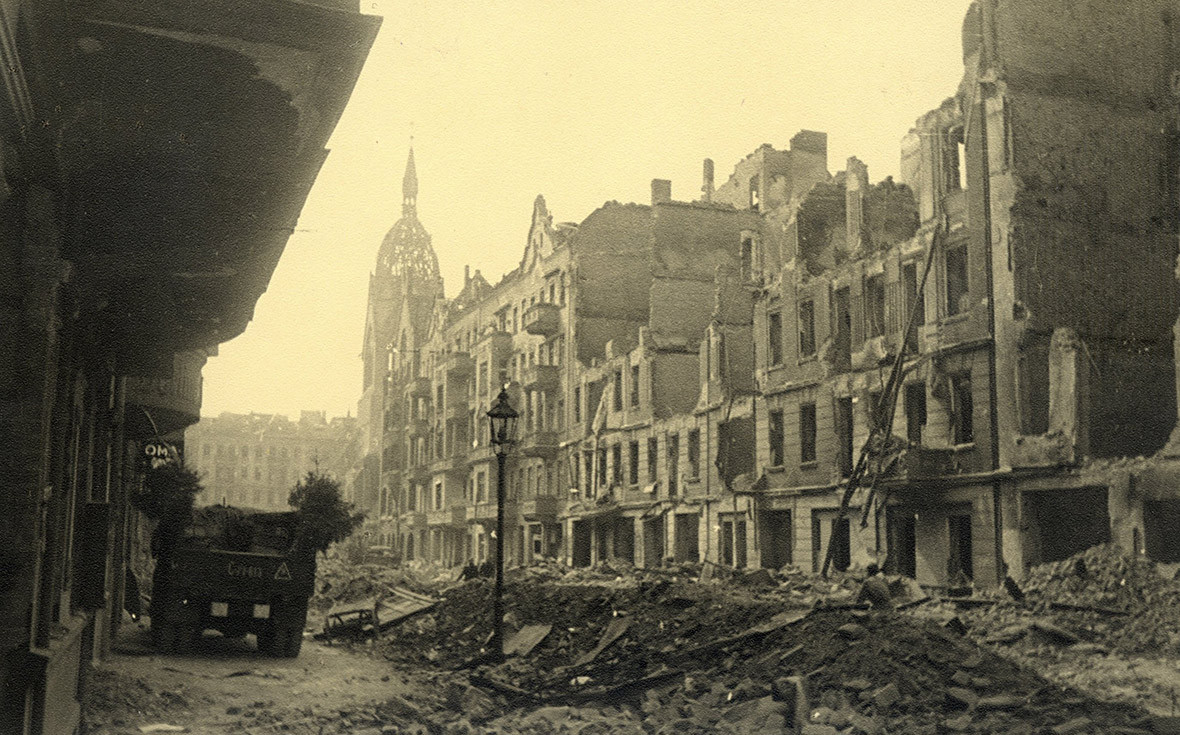 "Other times, I was able to get the exact same view – and suddenly Samsonov was back. I could vividly imagine the war raging, with the sounds of shots from machine guns and rocket launchers, dead people in the streets, troops trying to make their way through the centre of Hitler's governmental district with the Reichstag building and his bunker at the Chancellery.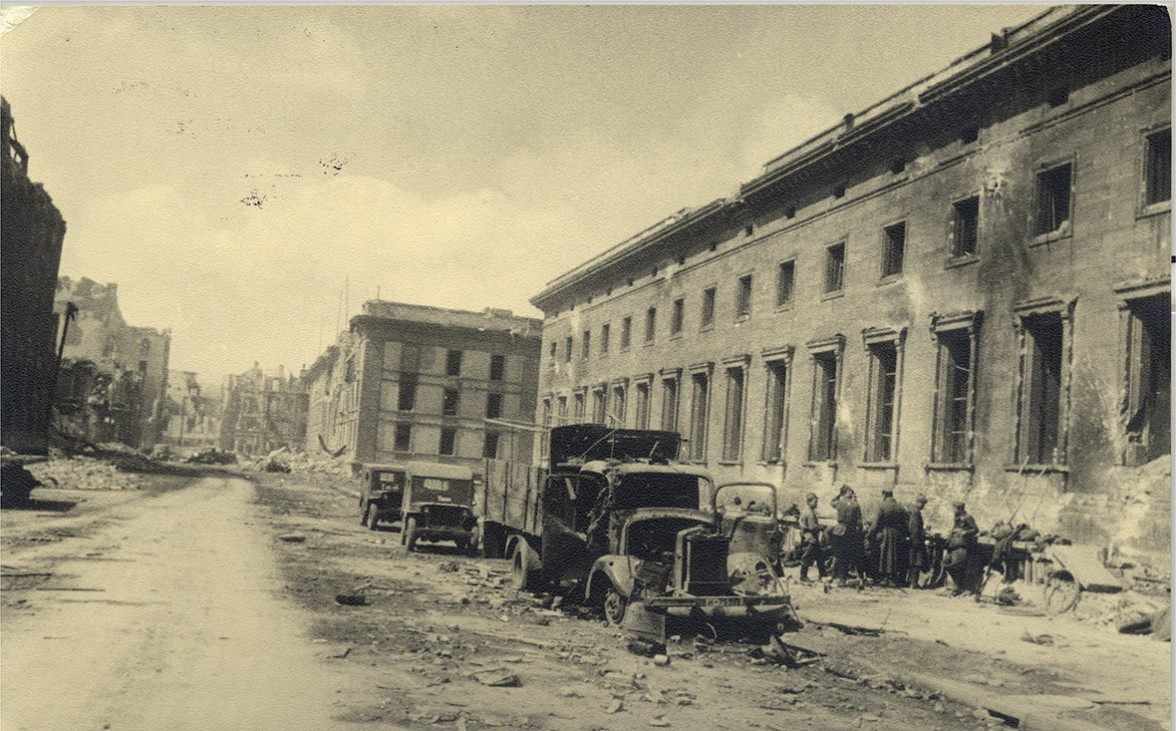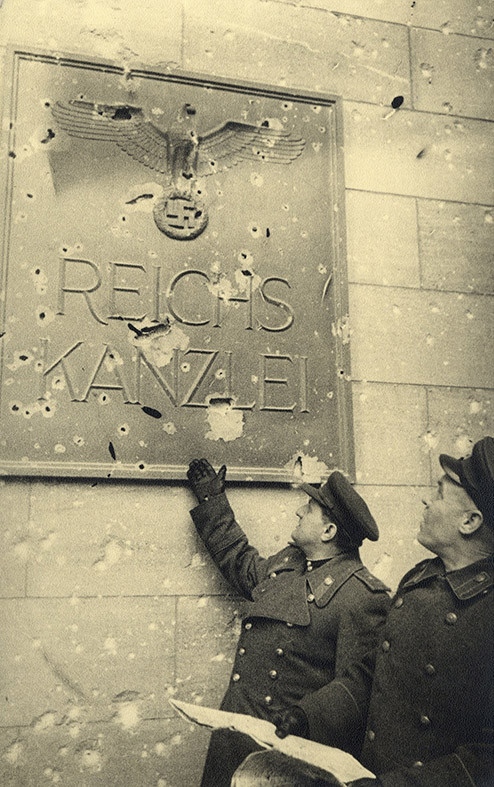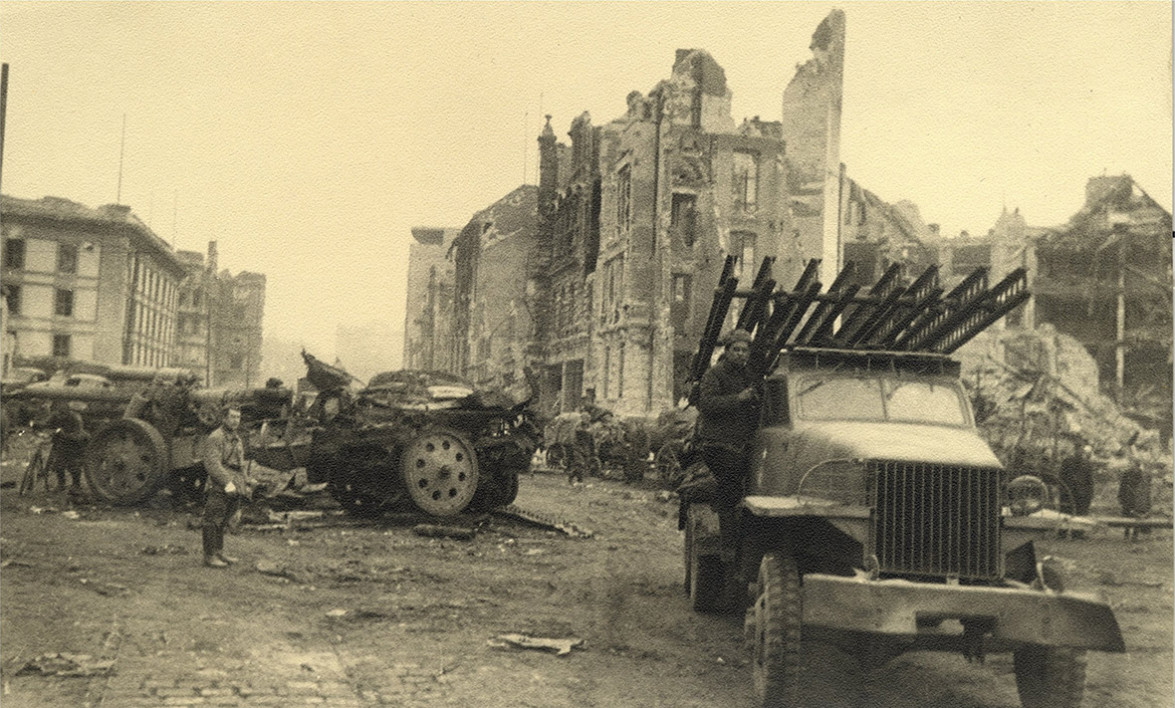 "I admire Samsonov for his portrayal of Berlin – a city in a state it had never reached before and hopefully never will again. Photos are memories – of history, events, ourselves. Who will shoot the same images again, 70 years from now. And what will the images show?"