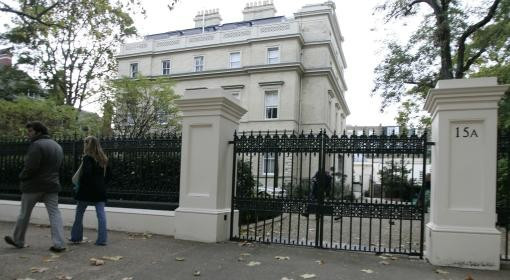 Hardly a fortnight since former Defence Secretary Liam Fox warned that Britain would be flooded with Russian spies during 2012 London Olympics, a Russian has been expelled from the UK after he was allegedly caught trying to rope in senior politicians and officials to be recruited as spies.
According to the Telegraph, Mikhail "Michael" Repin, an officer from the Russian foreign intelligence service, the SVR, was sent out of the UK after his covert activities were exposed in a surveillance operation.
Officials and other people having connections with British security and defence firms too were approached by Repin, who worked in the political section of the embassy in Kensington Palace Gardens, the report has said.
An investigation carried out by the paper has more or less confirmed fears that the UK is being targeted by Russia as a major source of intelligence. Repin won the trust of officials at the House of Commons and even defence and security experts, the report has noted.
According to the paper, Repin was targeting British nationals who could provide useful intelligence or were connected with someone with access to crucial information. "He was very friendly and his English was very good. I did not for one moment think he was a spy. I didn't even realise he was Russian until later," a British security expert who met Repin at Whitehall has told the Telegraph.
He was also reportedly associated with meetings at the House of Commons, the International Institute of Strategic Studies, the Royal United Services Institute and Chatham House.
A total of 30 to 50 Russian spies are now working under diplomatic cover from its London embassy, the report has said quoting a recent MI5 assessment. "Within the UK, the Russian intelligence service are interested in a broad range of requirements including government policies on EU, Nato, trade finance and the UK-U.S. relationship," the MI5 has reportedly noted.