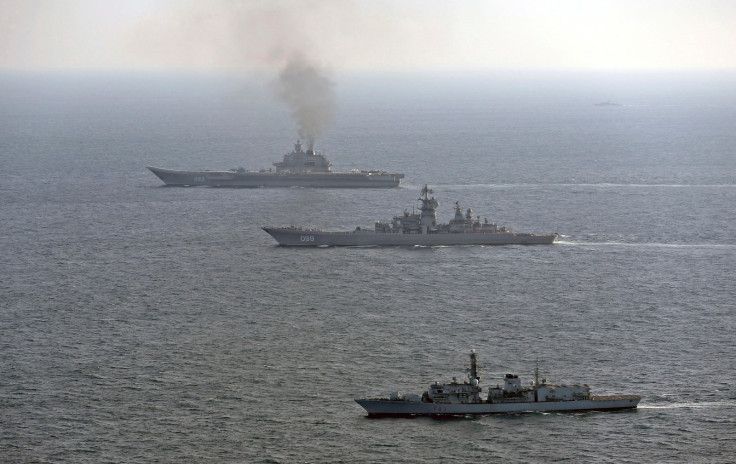 A British naval warship and three RAF Typhoons are keeping "a close eye" on a Russian aircraft carrier, and its accompanying fleet, as they sail through the English Channel.
The 55,000-tonne Admiral Kuznetsov, Russia's only aircraft carrier, is returning to the Barents Sea, in the far north of the country, after a two-month stint off the coast of Syria.
The Ministry of Defence (MoD) said a Royal Navy Type 23 frigate, HMS St Albans, was dispatched to meet the Russian fleet as it neared British waters.
The ships initially met close to Dover at around 12:30 GMT on Wednesday 25 January and then entered the North Sea.
The fleet also contains a nuclear-powered Kirov-class battlecruiser – the Pyotr Velikiy, and a salvage tug.
The Admiral Kuznetsov originally passed through the channel en route to the Mediterranean in October where it was similarly monitored by the Royal Navy.
According to the Russian military, the ship helped to destroy 1,252 terrorist targets in war-torn Syria after docking in the Mediterranean Sea from 12 November 2016.
The Russia fleet is supported by attack helicopters and Russian MiG and Sukhoi jets, which were regularly flying into Syrian airspace "every day" from the ship.
Defence Secretary Michael Fallon said that the flotilla would be "man-marked".
"We will keep a close eye on the Admiral Kuznetsov as it skulks back to Russia; a ship of shame whose mission has only extended the suffering of the Syrian people.
"We are man-marking these vessels every step of the way around the UK as part of our steadfast commitment to keep Britain safe."
The naval task force was closely monitored by Nato, who have condemned Russia's presence in Syria. As the Kuznetsov carrier group passed through the Mediterranean Sea it was prevented from refuelling in Spain.
It joined around 10 other ships stationed 100km (62 miles) north-west of the Syrian port of Latakia, facilitating 420 sorties in a little under two months.
Now it is heading back to its home port at Severomorsk, on Russia's freezing northern Arctic coast, after Moscow said the ship has achieved its objective as Russia-Turkey brokered peace talks opened between rebels and Syrian President Bashar al-Assad, in Astana, Kazakhstan.
A Royal Navy spokesman said: "Remaining at a respectful distance, but keeping the Russian warships clearly visible, Royal Navy sailors keep watch on every movement through their binoculars and use state-of-the-art radars to track the course and speed of the ships as they pass close to the UK."