The sending of thousands of US troops to eastern Europe in January is aimed at showing how Nato means business when it says it wants to tackle a perceived Moscow military menace. In turn, it is a move that Russia says is a threat to its own security.
The Pentagon's view that Russia's military involvement in Ukraine, including its annexation of Crimea, means that the US has to focus on boosting collective defence in Europe and shows how the rhetoric on both sides has sharpened.
Russia may have drawn down its navy from the Mediterranean after the Syrian conflict, but its presence in the country is still strong, and its influence in the Middle East assured.
The Russian newspaper, Novaya Gazeta, said army personnel are being briefed for deployment in Syria. Russia's defence ministry confirmed, while still adhering to the terms of a recent ceasefire agreement, it had sent four Su-25 ground attack jets there.
A new White House resident may mean a shift in Moscow-Washington ties, and different foreign policy priorities for 2017 in which Russia will continue its focus on the Baltic States, its claim on Ukraine and the Arctic.
Russia's defence minister, Sergei Shoigu, said in January that Moscow might switch its focus on nuclear weapons to precision bombs, and would rely on warships and submarines with cruise missiles to carry its precision-guided weapons.
He said: "By 2021, we plan to more than quadruple the combat capabilities of our strategic conventional forces, which will fully meet the demands of conventional deterrence."
Senior research fellow at the Royal United Services Institute, (Rusi) Igor Sutyagin, said Russia will focus on a continuing to reinforce Russian military positions in the Arctic and in Crimea.
He said Russia will also need to prioritise reorganising and professionalising its personnel, which by some estimates number 798,000. Military service is compulsory for Russian men aged between 18 and 27, but many of Russia's forces are conscripts with only limited training.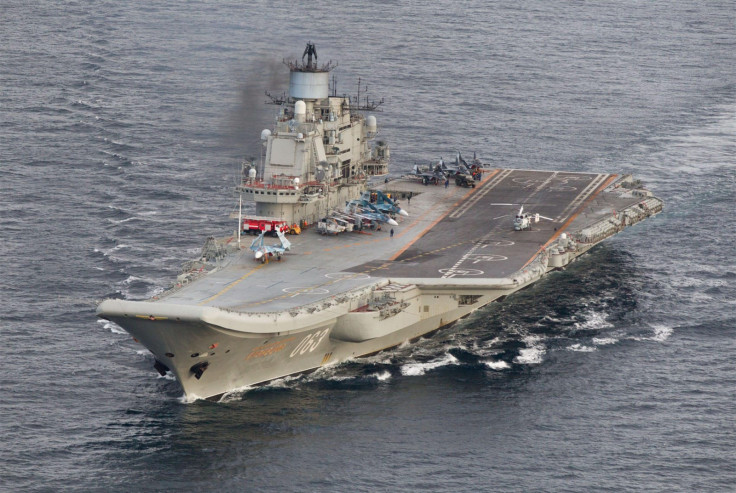 "They will continue to improve the offensive potential of their conventional forces. If Russia can show to the West 'You better not meddle with us, that we do have the capability to successfully attack you', that will have value," he said.
The news agency Tass reported that Russia's military budget for 2017 would be 2.7tn rubles, ($46bn, £38bn at January 2017 rates) , which would account for 3.3% of GDP and 17.5% of the overall federal budget.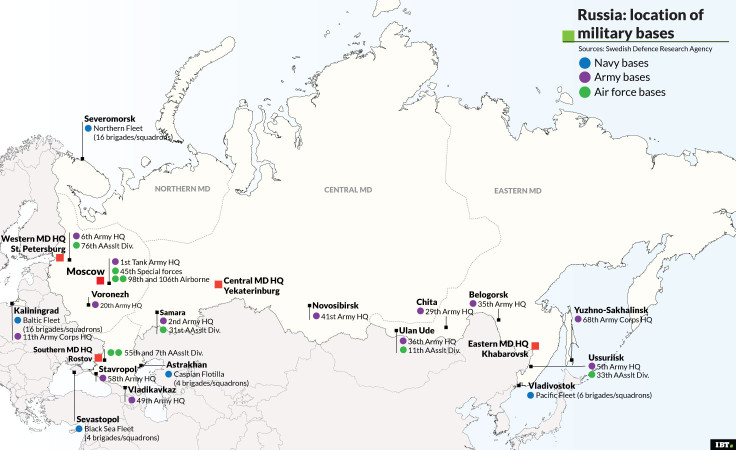 Russia is in the midst of undertaking a 10-year military modernisation project until 2020 called the State Armaments Programme. This will see the Kremlin spend an estimated $647bn (£525bn) across the Armed Forces at the 2011 exchange rate, although continuing sanctions and the falling ruble may affect this.
One of Nato's most senior retired generals warned of the risk of a nuclear war with Russia if the West did not boost its defences in the Baltic States and called on a commitment to the alliance from the incoming president Donald Trump.
How Russia's military spending compares
1. United States $596bn
2. China $215bn
3. Saudi Arabia $87bn
Former deputy supreme allied commander for Europe, Sir Richard Shirreff told IBTimes UK in December: "I think Putin's aim is to neutralise Nato, and one of the ways he does that is by decoupling America from European security. That is what he is going to be looking for by cosying up to Trump."
In February 2016, the American military think tank the Rand Corporation estimated that it would be impossible for Nato to defend the Baltic states, which form the alliance's most exposed territory, calculating that Russian forces could reach the outskirts of Tallinn and Riga within 60 hours.
Director of editorial at the International Institute for Strategic Studies, Nicholas Redman said Russia's business and community links in the Baltics are just as key as its military capability in exerting influencing Estonia, Latvia and Lithuania.
"I think there is a high value placed on the Baltic States on the part of the Kremlin but it is a way of showing Nato, which is making the Kremlin feeling vulnerable, that Nato itself has vulnerabilities," he said.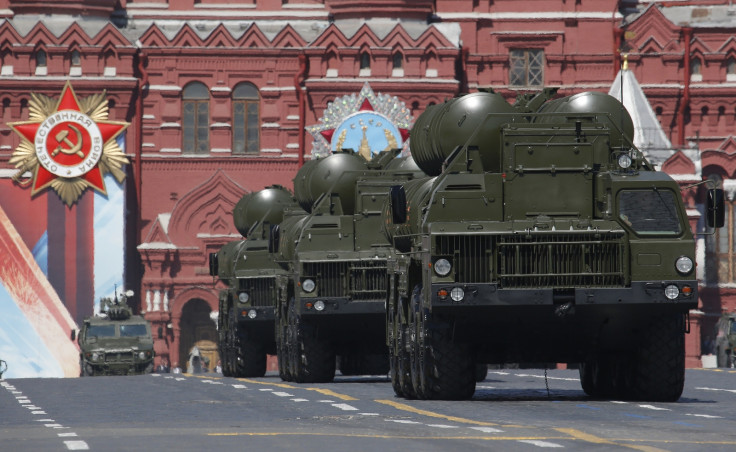 A key question is what Russia might do regarding Ukraine, where in the east of the country which Nato says it has a significant military capability. Around 10,000 soldiers and civilians have died in eastern Ukraine whose Donbas region is the scene of trench warfare between pro-Russian separatists and Ukrainian troops, with mortar shots and artillery fire a daily occurrence.
However, Nicholas Redman from the IISS told IBTimes UK that Moscow may be content simply to preserve the status quo of instability in the east of Ukraine.
"The advantage of having east Ukraine as a live, unresolved issue is that it keeps Crimea off the table. Nobody in Russia is ever thinking of Crimea ever returning to Ukraine.
"Russia is not exhibiting any behaviour in eastern Ukraine that suggests that it is particularly worried, they feel that ultimately the game will come their way that western states will not have the stomach or stamina to maintain the support they have adopted for (Ukrainian president) Poroshenko."