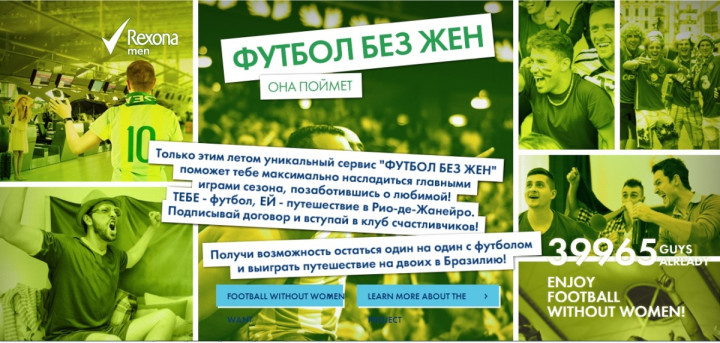 A Russian has come up with a "football without wives website" where fellow fans can enrol themselves so that they can leave their female partners with special guardians and enjoy the World Cup matches.
Under the deal, the wives of the football fans will be entertained during the period when they are with khranitel, aka the guardian. They will be returned unharmed when the World Cup season comes to a close.
Mikhail Sindeyev, a Manchester United aficionado, had made a pact his wife for watching all the matches involving the club.
However, when the World Cup also started, the number of football matches has increased forcing Sindeyev to take desperate measures like buying special spa tickets for his wife and registering her for various events, according to the Moscow Times.
Following that, he came up with a new idea of setting up a crowd-funded website under the name футболбезжен.рф or footballwithoutwives.rf.
The fund has so far drawn about 1.5 million roubles ($44,500, £26,130), through donations from thousands of people and a famous deodorant brand, and close to 40,000 men have already signed up.
Women agreeing to be accompanied by a guardian can watch television shows or learn a new language during the contract period.
The website flashes a reject message if a user chooses the female option under the gender category and displays a line saying: "Sorry dear, but this page is only for men."
The website has evoked a mixed response, with some calling it sexist and others welcoming it.