Russian president Vladimir Putin may have Asperger's syndrome, according to a Pentagon report.
The report, written in 2008 documents the findings of research conducted by the Office of Net Assessment. The diagnosis of the President's alleged mental illness is based on videos of Mr Putin dating back to 2000.
According to the report, his "neurological development was significantly interrupted in infancy" with suggestions that his mother may have had a stroke while pregnant with him causing an "insult" to his brain.
The researchers believed the early brain injury may have affected the way he thinks and moves the right side of his body.
"His primary form of compensation for his disorder is extreme control and this is reflected in his decision style and how he governs," the report says.
Dr Stephen Porges, a University of North Carolina psychiatry professor, as concluding Mr Putin "carries a form of autism".
Dr Porges said Mr Putin's behaviour and facial expressions reveal someone who is defensive on a larger stage.
"If you need to do things with him, you don't want to be in a big state affair but more of one-on-one situation someplace somewhere quiet," he told USA Today.
Brenda Connors, an expert in movement-pattern analysis at the US Naval War College in Newport, Rhode Island, concluded that "the Russian President carries a neurological abnormality."
The report adds that Putin suffers with "an autistic disorder which affects all of his decisions".
Asperger's Syndrome is a life-long condition which falls within the autistic spectrum. It affects about 1 in 200 people, who suffer difficulty in social interaction, social communication and imagination, and cognitive flexibility.
These are often displayed, predominantly in males, by a lack of empathy, impaired imagination, difficulty in making friends, intense absorption in a special interest.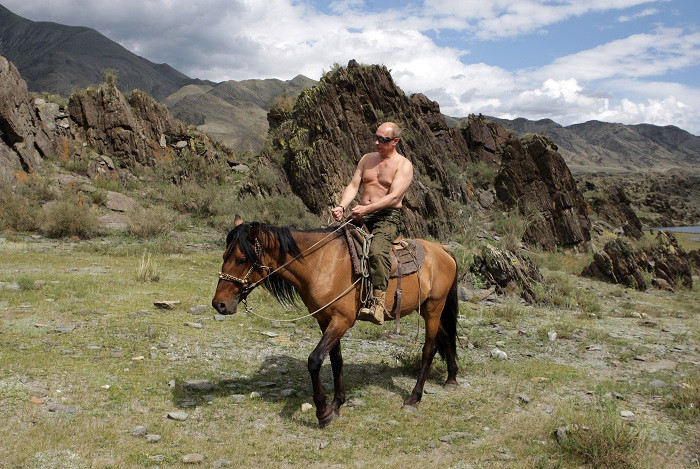 A former KGB agent, Mr Putin has embarked on a propaganda campaign in which he portrays himself as a strong, decisive leader with a fondness for extreme sports and physical activity. In 2007 he was famously photographed swimming in a cold Siberian river and riding and fishing bare chested.
While he is popular in Russia, the President is regarded as a despot and a dictator in the West.
The results of the studies have been published as French President Francois Hollande and German Chancellor Angela Merkel prepare to join US Secretary of State John Kerry in Kiev ahead of talks with Putin about the escalating situation in Ukraine.
Fighting between Ukrainian and Russian forces has continued for 10 months, killing more than 5,000 people in a territory dispute centred on Donetsk.
The study has been criticised by autism organisation National Autistic Society (NAS), saying this kind of speculative diagnosis is 'fraught with risks and unhelpful'.
'Autism is a complex condition and a diagnosis should only ever be made following a thorough, holistic face-to-face process involving both the individual and the diagnostician,' Jane Harris, Director of External Affairs and Social Change at NAS said.
Putin was named the Russian public's person of the year, and was third in TIME magazine's power list.