Belarus has cancelled a ban on live cattle from the European Union, as it looks to increase its exports to Russia.
The ban had been introduced in 2012 after an outbreak of the Schmallenberg virus, which causes congenital malformations and stillbirths in cattle sheep and goats, in Europe.
This move comes in the same week that Russia said it would permit the import of foodstuffs from the EU which had been processed in Belarus.
Reuters records the head of Belarus' veterinary surveillance body, Yuri Pivovarchuk, as saying: "On the basis of a letter from the World Organisation for Animal Health… we concluded this virus does not pose a threat to animals and their offspring now."
Sanctions and reversals
It's the latest twist in what is becoming a shifting melodrama of sanctions.
Last week (13 August), Belarus had ruled out re-exporting banned western produce to Russia after meeting with Russia's food safety watchdog.
But with soaring prices hitting Russian consumers, Moscow officials said that since the ban came into place, frozen fish prices are up 6%, milk 5.3% and cheese by 4.4%, it seems that Russia is keen to offer a loophole through which western goods can pass.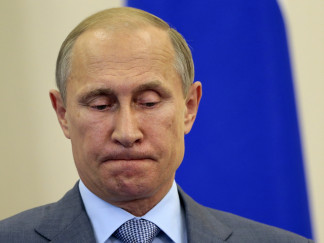 Earlier this month, Russia slapped a year-long ban on fruit, vegetables, meat, fish and dairy from the EU, US, Norway, Australia and Canada.
Most analysts agree that the ban will hit Russia the hardest, as it imports 43% of its food – in 2013 imports were worth €13bn ($17.23bn, £10.4bn).
Poland on the attack
Meanwhile, the European Commission is said to have reacted cautiously to Poland's request to launch a World Trade Organisation complaint against Russia.
EurActiv reports Commission spokesperson Chantal Hughes as saying: "We received this letter from the Polish, we are now looking at it, and we are looking at what is possible and what is not possible under WTO rules, before we take any decision.
"Of course, we will discuss with all relevant member states and stakeholders. When we've done that, we will make a decision. We're not there yet, but we will make a decision in the coming weeks."
As was reported on IBTimes UK this morning (20 August), Russia and the EU could both be contravening WTO guidelines regarding unilateral sanctioning.
Should the EU decide to pursue Russia in the WTO's arbitration courts, it could win the right to issue a retaliatory ban on all fresh Russian produce on the bloc's markets.