Scottish Conservative leader Ruth Davidson's "historic" electoral victory has propelled her to new heights in what has already been a rapid rise in politics. Her party won 31 seats in the election on Thursday (5 May), doubling its representation in Holyrood and overtaking Labour as the main opposition to the Scottish National Party (SNP).
Praised by Prime Minister David Cameron as an "historic result", it has been described by fellow Tory politicians as unthinkable a decade ago. Davidson's battle to build a new Conservative following also saw her take Edinburgh Central from the SNP.
She celebrated by warning Nicola Sturgeon she would "hold the SNP to account", adding: "I am under no illusion that everybody who voted for me in that seat is a true-blue, dyed-in-the wool Tory, and neither are they in places up and down Scotland. They are people who want us to do a very specific job, and that it is to hold the SNP to account."
It's a message that continues her re-branding of the Tories as a party of broad appeal in Scotland. An openly gay woman with a working-class background, Davidson is seen by her backers as a break from the party's toxic image.
Despite only entering politics in 2009, she has already been tipped as a potential successor to Cameron. One recent poll found her to be more popular than any other Conservative cabinet member in the country by a significant margin.
Aged 32 at the time, her popularity saw her become the youngest ever leader of the Conservatives in 2011.
But her possible future as the "next Margaret Thatcher" – a label she is keen to shun given the former Prime Minister's unpopularity in Scotland – has been doubted by her own unwillingness to be dragged through the Westminster machine, and all that it entails.
"I'm incredibly lucky in that I get to regularly see behind the door of No. 10 and it was like the loneliest job, second only probably to being the president of the United States," she told BBC Radio Scotland in November.
"Running a G7 country is not for the faint hearted. I don't think I'm up to it, I don't want it and I don't want the impact that it would have on my life and all of the people that I love."
Background
Davidson was born in Edinburgh to working-class parents. Her father, Douglas, left school aged 16 and later became a mill manager. Growing up in Selkirk and later Fife, she described her state secondary school as a far cry from the playing fields of Eton where many of her Conservative conservative colleagues were educated.
"Buckhaven High is quite a long way from being a private school," she said in an interview with The Scotsman. "It takes its pupil base from what I believe is euphemistically called a socially depressed area, and it had all the attendant problems that go with that of drugs and violence and all the rest of it, but my teachers were amazing."
She went on to study English literature at the University of Edinburgh before becoming a journalist for BBC Scotland and a Signaller in the Territorial Army, a career that ended after a back injury at Sandhurst.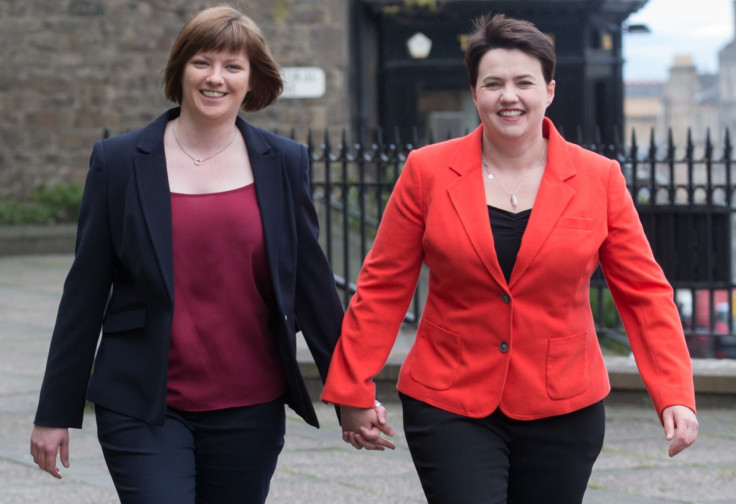 Career in politics
Growing up in what she described as a "small c" Conservative household, she only became a member of the party in 2008. She left her job at the BBC in 2009 to study international development at the University of Glasgow.
The same year saw her stand as a Tory candidate in the by-election for Glasgow North-East, losing to Labour's Willie Bain and coming in third. She tried for the same seat in the 2010 general election, this time winning a higher proportion of the vote but coming in fourth place.
After just three years since joining the party as a member, and just months since eventually becoming a MSP, she was made leader of the Scottish Conservatives – arguably one of the toughest and least rewarding jobs in politics. The party held just 15 MSP seats out of 129 at the time, and had seen their 25% support in 1999 halved by 2011.
The Thatcher government had destroyed the party's reputation in Scotland to such an extent her rivals in the leadership election were campaigning to break away from the Conservatives in Westminster, and create a new centre-right movement.
But Davidson remained committed to retaining the Tory party brand, despite admitting it might be a decade before the Tories were strong enough to share power in Holyrood. Speaking about the battle to overcome the image problem, she said: "I've never thought about the Conservatives as only being a party for posh people. It isn't, and nor should it ever be."
She added: "I was six months old when Margaret Thatcher came to power. I was in primary school when she left office – so it's not really something for my generation or the generations that come after me. I'm 37. You can vote now in Scotland at the age of 16 – so talk about Margaret Thatcher is the same as talking about Gladstone or Disraeli in terms of the distance that's there."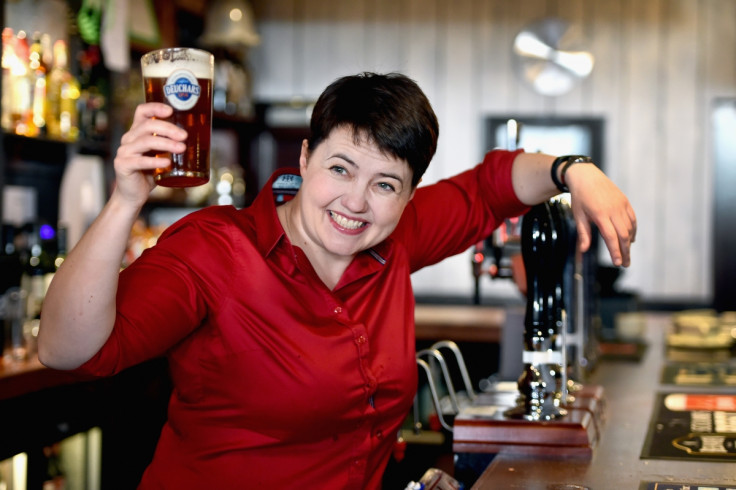 Policies
Davidson's critics have attacked what they say has been a leadership light on policies. The run-up to Thursday's election saw some claim the party had campaigned on simply holding the Scottish government to account, and little else.
The SNP have also accused her of echoing the Cameron/Osborne policies of austerity.
But Davidson insists she is not a carbon copy of her colleagues in Westminster, claiming she has been floating fresh proposals, including on reforming education and investing in digital infrastructure.
She has done a series of speeches in an effort to define the values of Scottish Conservatives to voters. This has seen her emphasise the importance of thrift and a strong economy.
She also supports tougher punishments for criminals and calls for tougher sentences for those committing crimes while under the influence of alcohol or drugs.
In a break with traditional Conservative policies, she has also been a vocal campaigner against homophobia and a supporter of same-sex marriage (although she does not believe churches should be compelled to carry out ceremonies).
But arguably her biggest attraction to voters has been as a strong supporter of the union. While saying the Conservatives were wrong to oppose the creation of a Scottish parliament in 1999, she has opposed any further devolution.
She said: "I believe that the United Kingdom is a force for good in this world. I believe that we in Scotland walk taller, shout louder and stand stronger for being part of that union."
Sexuality and personal life
Davidson, a practising Christian, came out as gay late in life and lives with her partner Jen Wilson. Admitting she never wanted to be gay, she said she struggled to reconcile her religious beliefs with her sexuality.
"It's something I struggled with, I didn't want to be gay," she told BBC Radio Scotland. "I'm not sure how many people do. It's been amazing the difference, even in my lifetime, how things have changed.
"I struggled with it for a number of years actually before I would admit it to myself, never mind to anybody else.
"But there comes a point at which you make a decision and that decision is either that you're going to live a lie for the rest of your life, or you're going to trust yourself, and that's what I had to do."