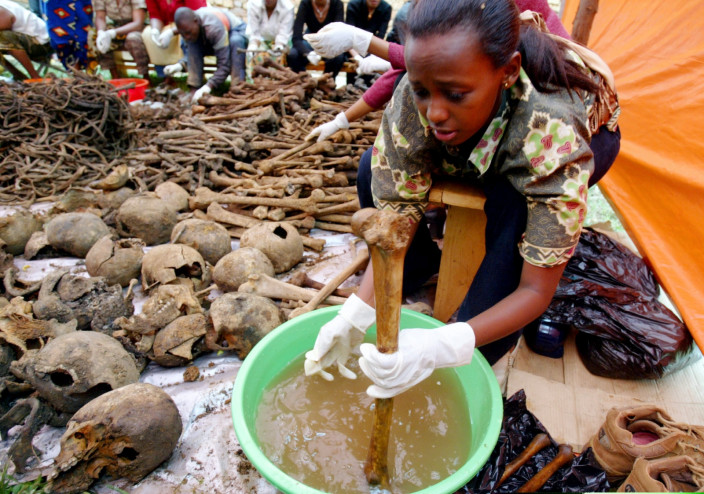 A 61-year-old priest has been arrested in France for crimes against humanity, more than twenty years after the 100-day Rwandan genocide that left between 800,000 and 1 million people dead.
The central office on crimes against humanity, genocides and war crimes arrested the Hutu priest in Trappes, north-central France, with the mission to execute an international arrest warrant issued by Rwanda's prosecutor.
Courts accuse the man, who is said to be close to the government and the family of former Rwandan President Habyarimana, of having killed between 25 and 1,000 university students and their families by pointing to them to killers armed with machetes.
The priest, who retains this status thanks to his military chaplain position, is alleged to have let atrocities take place. Some also accuse him of having carried out interrogations and to have controlled and used information to track down Tutsis.
Political asylum in France
The man managed to escape the country when the Tutsis took over, aided by friends within the church. After going through several African countries, he landed in France in 1997, where he applied for political asylum.
After spending some time in Haute-Garonne, he finally moved to Trappes, where he currently works as a social mediator for the town hall.
He was directly brought before the magistrates of the Court of Appeal of Versailles, before being released under court supervision.
"The Rwandan authorities have requested his extradition," a source close to the case told Le Parisien. "It is likely that his lawyer will oppose it because, in the eyes of France, [Rwanda] does not offer the guarantees of fair trial."
Judges of the investigating chamber, who are expected to receive the entire record in the next few days, will then decide whether to extradite the sexagenarian.
30,000 gathered in the Amahoro stadium in Kigali, the Rwandan capital, to honoured the dead in April 2014, during the 20th anniversary of the genocide.
UPDATE:
(17 June 2015 15:34 GMT)
The Rwandan military chaplain has been named as Martin Kabalira, according to Jeune Afrique.