With a three-hour long run and several red carpet shows before the actual ceremony itself even begins, it stands to reason that plenty of memorable celebrity moments would be born from award shows such as the Golden Globes. Well, it turns out the 2017 edition was no exception.
From heart-wrenching and powerful speeches to awkwardly fun moments, the broadcast certainly had its fair share of notable highlights. So if you couldn't tune in on Sunday 8 January or if you simply want to remember, IBTimes UK has compiled a list of its favourites from across the night...
Jimmy Fallon's La La Land-inspired opener
Damien Chazelle's modern-day musical La La Land turned out to be one of the biggest winners of the night but before the awards even started being dished out, host Jimmy Fallon and a whole host of stars including Nicole Kidman, Amy Adams and Justin Timberlake paid homage to the movie in the ceremony's opener. Complete with a chuckle-worthy Game Of Thrones nod, The People v. OJ Simpson references and a rap from the Stranger Things youngsters... what more could you want?
... and his failing teleprompters
While the aforementioned, pre-recorded show number might have been a success, Fallon's monologue didn't quite run so smoothly. Right after he made his way onstage, Fallon announced his teleprompter had failed, forcing him to improvise some comedy before the proceedings kicked off.
"I can think of something – cut to Justin Timberlake, please and he'll just wink at me or something, this is great. You know what, I'll make up this monologue," he joked, before conjuring up gags about Game Of Thrones and President-elect Donald Trump and impersonating Chris Rock. As you do...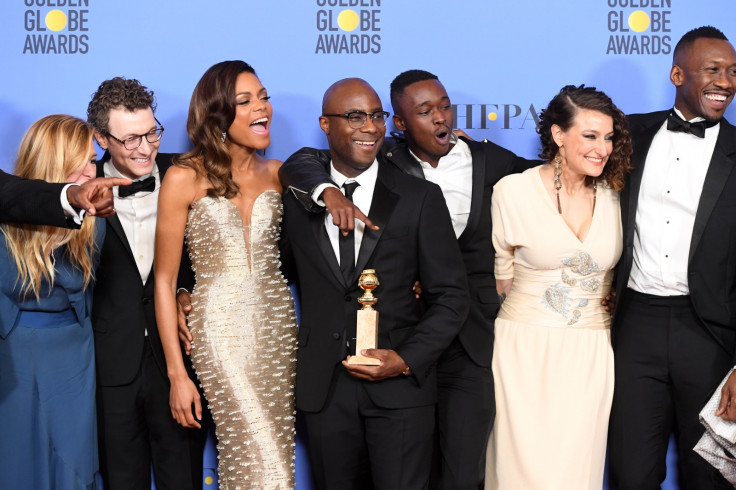 Meryl Streep's Lifetime Achievement Award speech
Speaking of Trump, someone who wasn't in the mood for jokes when it came to the next POTUS was Meryl Streep, who, after receiving the Cecil B DeMille award, slammed him by referencing disabled journalist Serge F. Kovaleski and the November 2015 incident which saw Trump "mock" him during his electoral campaign.
"There was one performance this year that stunned me. It sank its hooks in my heart. Not because it was good; there was nothing good about it. But it was effective and it did its job. It made its intended audience laugh, and show their teeth," she stated solemnly. ""It was that moment when the person asking to sit in the most respected seat in our country imitated a disabled reporter."
Tracee Ellis Ross winning her first Golden Globe
Tracee Ellis Ross winning her first Golden Globe was a poignant moment during the night, particularly because of her heartfelt speech which addressed not only her own gratitude but a much larger themes that are so important in Hollywood today. After collecting the best actress in a television series, musical or comedy for her role in Black-Ish, she stated: "This is for all of the women, women of color, and colorful people, whose stories, ideas and thoughts are not always considered worthy and valid, and important. But I want you to know that I see you. We see you."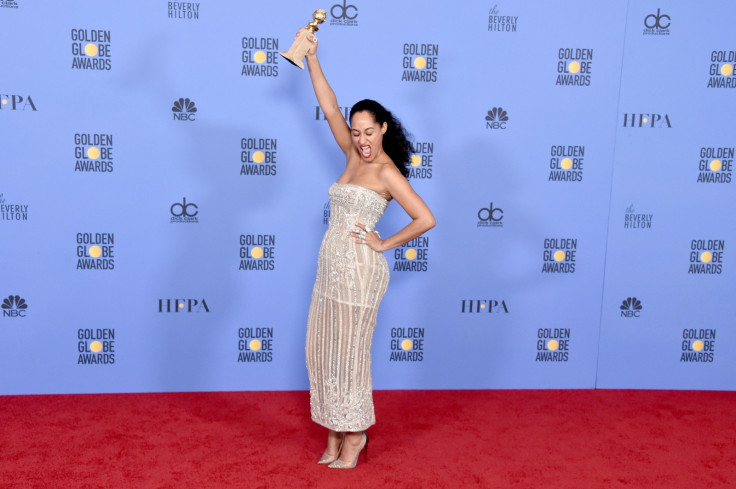 The Crown beating out Westworld and Game Of Thrones
It's safe to say that everyone expected HBO to walk away with the award for best dramatic TV series, either for beloved fantasy show Game Of Thrones or newbie sci-fi outing Westworld. But surprisingly, it turned out to be Netflix's The Crown, which... well, took the crown.
DJ JLD
It didn't really get an explanation in the show, so we feel no need to try and explain it here. Surely, everyone's lives simply benefit from seeing Veep star Julia Louis-Dreyfus delivering some quality and brilliantly baffling comedy in the form of a fake DJ set, right?
Ryan Gosling's speech
What can we say? While the jokes and ceremony may have been deemed "boring" and "safe" by viewers and critics online, the night ended up being a good one for individual speeches and Ryan Gosling's was no exception. After picking up the accolade for best actor in a musical or comedy, the La La Land star dedicated his win to his girlfriend Eva Mendes and her late brother.
"I would like to try to thank one person properly and say while I was singing and dancing and playing piano and having one of the best experiences I've ever had on a film, my lady was raising our daughter, pregnant with our second, and trying to help her brother fight his battle with cancer," he said. "If she hadn't have taken all that on so that I could have this experience, it would surely be someone else up here other than me today. So sweetheart, thank you."
Ryan Reynolds and Andrew Garfield pucker up
Much like Dreyfus' DJing, the next highlight need no explanation for it is simply that good. While Gosling was walking up on stage to collect his own award for the night, Ryan Reynolds and Andrew Garfield shared a smooch out in the audience. Enough said.
Brad Pitt
Despite the show being a star-studded affair from start to finish, it was Brad Pitt's appearance towards the end of the ceremony that arguably stole the show. Making one of his first official appearances since news of his divorce from estranged wife Angelina Jolie, the actor was greeted to overwhelming applause from the audience as he presenting a segment highlighting Best Picture drama winner Moonlight.
Talking about the movie – which he produced – Pitt stated: 'It's born of the courage of a group of actors willing to strip to their souls and express their humanism inside mistake and misstep and misdeed. It is Barry Jenkins profound belief that we all stand at the threshold of change and forgiveness where we only grant acceptance and love to ourselves."
Moonlight's win
Moonlight went on to win the coveted award for best dramatic motion picture and what a welcome surprise it was! Given certain trends of the past few years, many assumed that [equally worthy picture] Manchester By The Sea would walk away with the top prize but Moonlight pipped it to the post. Many people are regarding the win as understandably momentous – considering the film is directed by a black man, features an almost entirely black cast and centres on a gay character –and here's hoping this inclusiveness is echoed in next month's Oscars too.