Andrew Garfield gives standing ovation to Emma Stone for her Golden Globes win
Stone won the best actress award for her musical comedy film La La Land.
Emma Stone and Andrew Garfield still share a friendly relationship even though they are separated. Stone won the best actress award at the 74th annual Golden Globes in the motion picture, musical or comedy category for her outstanding performance in La La Land.
The 28-year-old actress was tearful as she walked towards the stage after her name was announced as the winner. While the audience cheered for her, one of the spectators in the crowd gave her an overwhelming standing ovation and it was none other than her former boyfriend Garfield.
The 33-year-old American-British actor's adorable gesture for his ex-girlfriend has raised hopes of fans that the couple will get back together. Stone has previously revealed that there is no bad blood between the exes and that she still loves Garfield even though they split in 2015. "[He's] someone I still love very much. I'm really glad you're sitting down so I can tell you," she told Vogue.
After receiving the coveted trophy, an emotional Stone thanked her family for their support. "I have to start by thanking my amazing mom. Thank you, Mom, for everything," Stone began. "I moved here 13 years ago this week and without my mom and my dad and my brother, who has put up with me his whole life. Thank you, Spence. You're the best. And my incredible friends, I love you so much."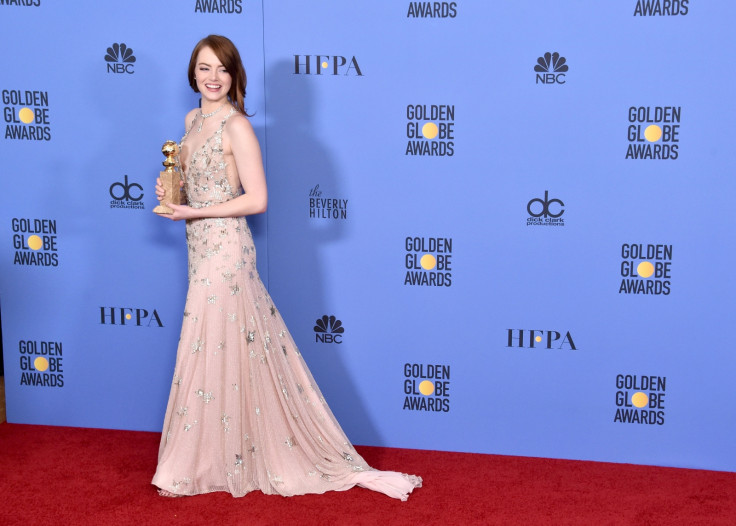 The La La Land actress dedicated her award to the creative people who struggle to make it big in the industry. "This is a film for dreamers and I think that hope and creativity are two of the most important things in the world. To any creative person who's had a door slammed in their face, either metaphorically or physically, or actor who have had their auditions cut off or have waited for a callback that didn't come or anybody anywhere, really, that feels like giving up sometimes, but finds it in themselves to get up and keep moving forward, I share this with you," she concluded.
© Copyright IBTimes 2023. All rights reserved.