Trump says he's not surprised about 'liberal' Meryl Streep's 2017 Golden Globes attack
Streep specifically referenced the incident involving disabled journalist Serge F. Kovaleski on stage.
Donald Trump has responded to Meryl Streep's Golden Globes 2017 speech, which slammed the President-elect and specifically referenced disabled journalist Serge F. Kovaleski and an incident that saw Trump "mock" him during his electoral campaign. Speaking to the New York Times, Trump admitted that while he didn't see the awards ceremony broadcast on NBC, he was "not surprised" to have been attacked by "liberal movie people".
After receiving the Hollywood Foreign Press Association's Cecil B DeMille Award at the ceremony, Into The Woods actor Streep never used the president-elect's name, but said: "There was one performance this year that stunned me. It sank its hooks in my heart. Not because it was good; there was nothing good about it. But it was effective and it did its job. It made its intended audience laugh, and show their teeth.
"It was that moment when the person asking to sit in the most respected seat in our country imitated a disabled reporter," she continued, remembering back to when Trump twisted his arms, reportedly in imitation of Kovaleski during a speech in November 2015. "It kind of broke my heart when I saw it, and I still can't get it out of my head, because it wasn't in a movie. It was real life."
But Trump has disputed Streep's statements, explaining: "I was never mocking anyone. I was calling into question a reporter who had gotten nervous because he had changed his story.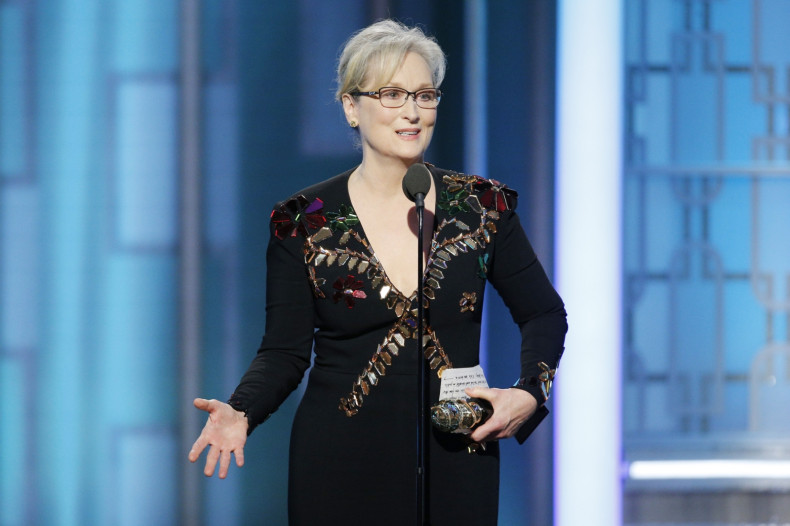 "People keep saying I intended to mock the reporter's disability, as if Meryl Streep and others could read my mind, and I did no such thing. And remember, Meryl Streep introduced Hillary Clinton at her convention, and a lot of these people supported Hillary.
"We are going to have an unbelievable, perhaps record-setting turnout for the inauguration, and there will be plenty of movie and entertainment stars. All the dress shops are sold out in Washington. It's hard to find a great dress for this inauguration."
Additionally, Trump later addressed the speech in a series of tweets, writing: "Meryl Streep, one of the most over-rated actresses in Hollywood, doesn't know me but attacked last night at the Golden Globes. She is a..... Hillary flunky who lost big. For the 100th time, I never "mocked" a disabled reporter (would never do that) but simply showed him....... "groveling" when he totally changed a 16 year old story that he had written in order to make me look bad. Just more very dishonest media!"
For more entertainment news follow A-List on Twitter @Alistinsider