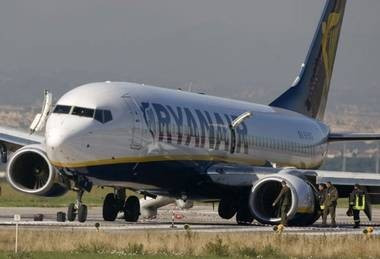 Passengers on board a Ryanair flight to Paris staged a "barabaric" sit-in and began looting after the plane landed 250 miles away from the French capital.
The furious flyers stole alcoholic drinks, food cigarettes and perfume from the plane's trolley and refused to leave when the already severally delayed flight landed in Nantes, west of Paris.
The incident occurred after a Rabat-Paris flight carrying 170 people was forced to land in Madrid so a passenger who was taken ill on board could receive medical attention.
The passengers were then told after leaving the Spanish capital that the plane would be landing in Nantes and be taken to Paris the next morning in order to comply with the night-time noise restrictions in place at the Paris' Beauvais airport.
After they realised it would more than 24 hours to reach Paris, instead of the scheduled two-and-a-half hour flight, angry passengers reportedly staged a revolt, stealing duty free products and abusing staff.
A Nantes airport employee told Metronews: "They pillaged the aircraft for food, drinks – especially alcoholic drinks – cigarettes and perfumes, anything of any value.
"They behaved like animals towards the plane, the crew members and members of the airport's ground staff."
One passenger defended the rebellion: "We were tired, on edge, because the situation was badly managed, we were hungry and thirsty and no one was giving us any information.
"After seven hours locked in a plane – instead of the scheduled two-and-a-half – people need to eat. We simply helped ourselves."
Ryanair played down the reports in the French media, insisting they are "inaccurate".
A spokesperson said: "There was no mutiny on arrival in Nantes, passengers were provided with overnight hotel accommodation and were transferred by coach to Paris Beauvais the following morning, in line with Ryanair's policies and obligations.
"Ryanair apologised sincerely to all passengers affected by this delay."