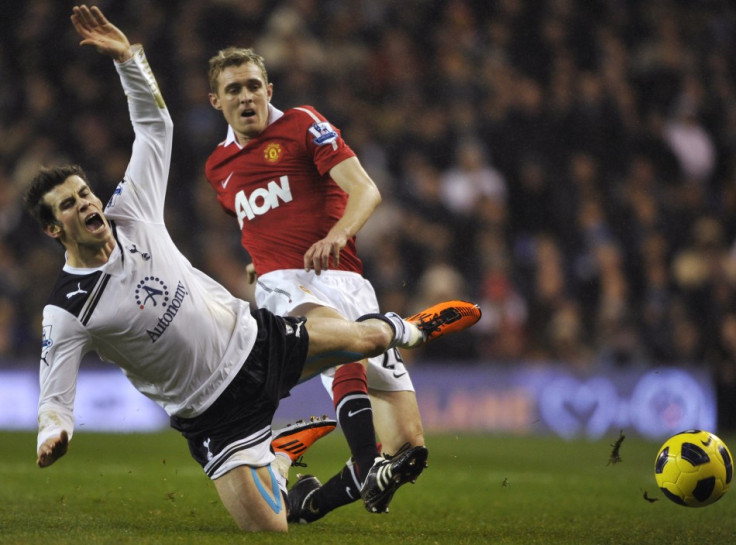 Scotland international Steven Naismith has admitted the loss of Manchester United midfielder is a cruel blow for the national side but concedes the 27-year-old's health is far more important than football.
Manchester United confirmed on Tuesday that Darren Fletcher would be taking an extended break from football in order to recover from the debilitating ulcerative colitis, a chronic inflammatory bowel condition he has been suffering with for over a year.
The aforementioned Rangers forward, who has been ruled for the remainder of the season with injury, admits he texted the Manchester United star in order to wish him the speediest recovery, and Naismith also acknowledged how the Old Trafford talisman's problems had put his own in stark perspective.
"I texted him (Manchester United midfielder Darren Fletcher) to say his health is the main thing in life, there is no point going through this and having something wrong with you for the rest of your days," Naismith told Sky Sports News.
"It does put it into perspective. You have got to have your 100% health and that's the main thing."
The Manchester United midfielder has played in his country's last five games despite clearly having to negotiate his illness, and yet such commitment is typical of the 27-year-old according to his compatriot.
"It's not surprising knowing Darren the way he is, how committed he is, how much of a winner he is and how professional he is," Naismith said of the Manchester United midfielder. "In the short time I have been in the national team I have learnt a lot from him. I've read and seen in interviews that there's a lot of the young players have been like that.
"That will be another thing that is missing - the younger boys taking so much from him off the park as well as on." Naismith said of the Manchester United midfielder who is out of action indefinitely.
"I've picked up so much from him, how professional you need to be and the way you need to train to get the most out of your ability. One of the first things I noticed was how professional he was."
While Naismith acknowledges Scotland will be without their 'heartbeat' for the foreseeable future, the Rangers star believes other players must now to step up and compensate for the Manchester United star's hiatus from international football.
"He's (Manchester United midfielder Darren Fletcher) a massive player for us and he is the heartbeat of the team with the experience he has got, but there was a period last year when the national team went without Darren Fletcher and we picked up some good results.
"The players that come in, it's their chance to show they can play and compete. Guys who have been on the fringes have got to step up and show they can replace him." Naismith concluded.
Manchester United's mounting injury crisis has heightened reports Sir Alex Ferguson could enter next month's transfer window. The Red Devils have been linked with Luka Modric, Wesley Sneijder and Javi Martinez amongst many others following the news regarding Fletcher.