SABMiller Plc posted a rise of 3 percent in its underlying beer volumes for first three months of the year, slightly lower than analysts' forecasts, as tough conditions continue to hit sales in mature European markets.
Annual beer sales at the world's second-largest brewing company also grew by three percent, allowing for an overall increase in reveunes of around 10 percent, the London-based company said in a statement Thursday.
Shares in the group were trading marginally higher, by around 0.3 percent, early in the London session, changing hands at 2,625 pence by 0808 GMT. SABMiller shares have advanced around 16 percent so far this year.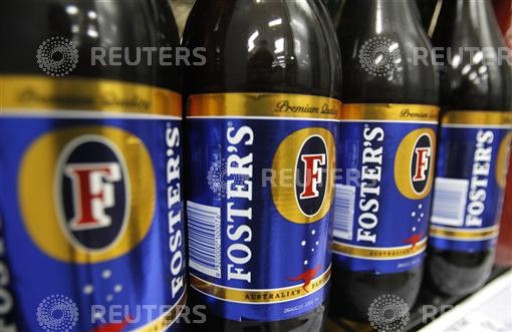 SABMiler posted 8 percent volume growth in UK driven by the expansion of Peroni Nastro Azzurro, but said beer volumes at its newly-acquired Foster's Australian business dipped 4 percent in the first three months of ownership in a tough market.
"The only negative point is the volume decline at Foster's, but we would expect the volume performance of the business to improve materially when consumer confidence recovers and when SABMiller has had the opportunity to implement the turnaround that the business clearly requires," said Matthew Webb at JP Morgan.
On an integrated basis, soft drinks volumes were 7 percent higher than the previous year and 12 percent higher in the final quarter.
The maker of Miller Lite, Castle and Peroni beers said its Africa's full-year lager volumes increased by 13 percent, Asia Pacific region grew by 4 percent, South Africa for the year rose by 2 percent, Latin America's volumes were up 8 percent and in Europe full-year lager volumes declined by 1 percent.
Moody's Investors Services raised its rating on Foster's Group Ltd by one level to 'Baa1', following the acquisition by SABMiller.
"The benefits of SABMiller's ownership and wider expertise in the global beer markets is likely to positively impact Foster's business model," Ian Lewis, a Moody's Senior Credit Officer said in a report today. "A number of Foster's older beer brands, which have had declining earnings and share, such as VB and Crown Lager will be re-invigorated."