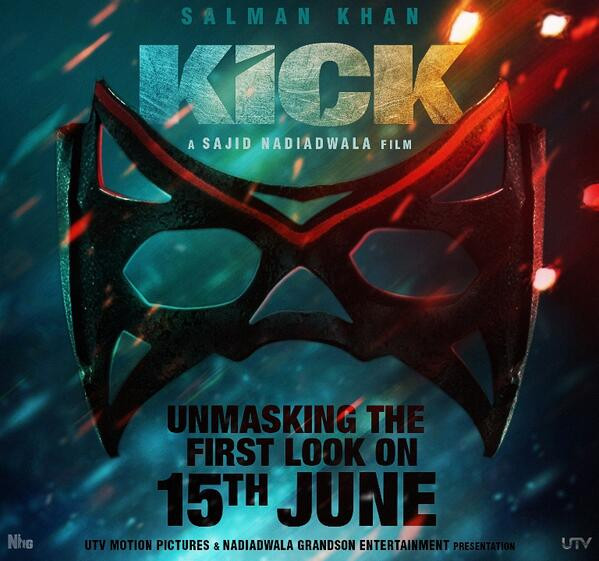 The first look of Salman Khan\'s upcoming movie Kick has been released and it appears as though the superstar is all set to join the league of Bollywood superheros like Shahrukh Khan and Hrithik Roshan.
The unveiling of the poster of Khan\'s much awaited \'Kick\' has brought great joy to his fans. The teaser poster of the movie indicates that this might be the first superhero saga by the Dabangg superstar.
The poster has a mysterious red and black mask in the centre with a dramatic green background giving the impression that the Jai Ho star is playing a masked superhero.
Meanwhile, Khan has decided to release the trailer of the movie at Gaiety Galaxy, a single screen theatre as the Bollywood hunk thinks single screens are \'very lucky\' for him.
\"Salman has a huge fan following and he considers single screens very lucky for him, so he has decided to release the trailer of the film at Gaiety Galaxy on June 15 with his fans,\" Manoj Desai, of Gaiety Galaxy and Maratha Mandir Cinema told IANS via NDTV.
\"We have cancelled the shows from 12 pm to 6 am for that day as Salman has booked the screen during that time,\" he added.
The forthcoming trailer has created tremendous curiosity among the Dabangg star\'s fans.
There are speculations that Khan will be the devil reincarnate in the movie and unlike the on-screen roles he\'s played thus far, his new character will have shades of grey.
\"He is the Devil incarnate. His character is grey and edgy, even the goatee he sports is a salt and pepper mix. You\'ve never seen him play a character like this before,\" producer director Sajid Nadiadwala explains to the Times of India.
The movie is a remake of the 2009 south Indian blockbuster with the same name but Nadiadwala argues that his movie is an adaptation and has only taken \'inspiration\' from the Kalyan starrer Telugu movie.
\"Our film is more an adaptation than a remake, only six scenes are similar to the original,\" Nadiadwala added. \"The character justifies the name.\"
Khan was reportedly shooting non-stop for his upcoming action thriller as the movie is scheduled for an Eid release this year.
\"The actual shooting started only mid-way in January. In the last five months we\'ve worked 18 hours a day and we\'re almost at the finishing line. There\'s just a song left. We will open on Eid,\" Nadiadwala told the website.