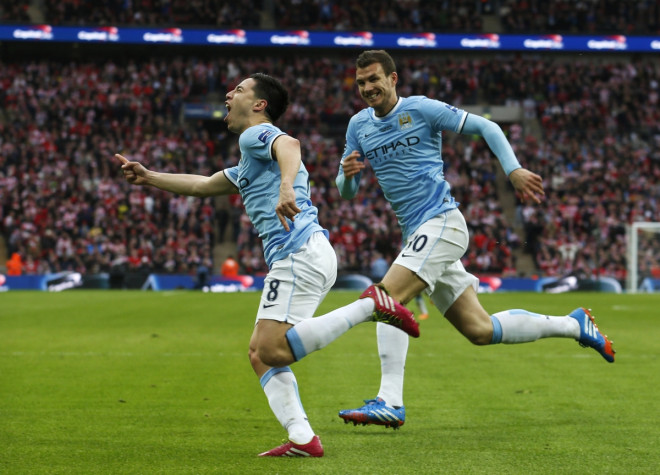 Samir Nasri has revealed that he left Arsenal to join Manchester City as the club offered him three times the money he would have earned with the Gunners.
Nasri left Arsenal in 2011 along with Cesc Fabregas, a period which saw them lose 8-2 to Manchester United at Old Trafford and had to undergo a real struggle to finish in the top four. The 2010/11 season was a breakthrough season for Nasri, who had scored 15 goals that term and was being pursued by a lot of clubs including Manchester United, Inter Milan and Juventus.
Nasri revealed that the prospect of creating history with City, who had not won a league title in 44 years, tilted the tide in their favour as he made his way out of north London. The Frenchman was vindicated in his choice as City beat United on goal difference to clinch their maiden Premier League as the Gunners struggled to keep pace.
"This image of me being 'materialistic' is a French thing. People were envious. It's fine. What happened is this: it was my best season with Arsenal (15 goals). We were in October (2010) and the manager asked me whether I wanted to stay at Arsenal. 'Yes I want to stay at Arsenal,' I said. Then they offered me a contract. It was far from what I wanted. With my agent, we were saying: if I stay at Arsenal, I know I'm going to win less money, but it's fine, I'm only 23. I have time to win money. If I'm good I will always win money," Nasri said.
"We were still in four competitions with Arsenal. We were playing really well. The manager wanted to be focused on what happened on the pitch. It's normal.
"We wait, we wait, we wait. We arrived in June. I have only one year left on my contract. I had propositions from Manchester City, Manchester United, Inter Milan and Juventus. I said: 'I don't want to go to another country. I want to be in England.'
"I really hesitated a long time. There was United. City wasn't the big club it is right now. My agent told me: 'Do you want to play in the big club, already with a big history (United), where you will be just one of them? Or play for Manchester City, who didn't win the league for 44 years, where if you win the trophy, you can make history.' I said: 'oh, yeah, I want to make history.' In my first year, I won the league. I don't have any regrets.
"Yes, economically I have a better life now than what I had at Arsenal. It's normal. If I said to you tomorrow that there is another journal, as serious as your journal, offer you three times your salary, I think you are going to go there! But my first motive was to win trophies."