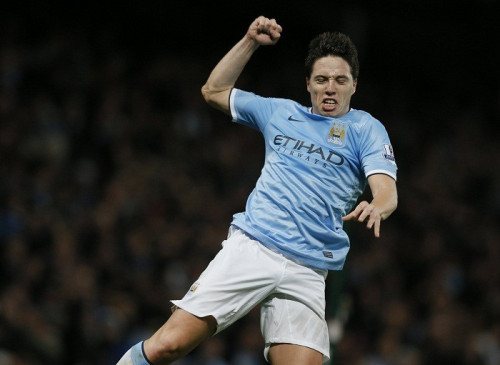 Samir Nasri's father has accused Mapou Yanga-Mbiwa of trying to intentionally injure his son with a nasty tackle during Manchester City's 2-0 victory over Newcastle United last Sunday.
Nasri had to be replaced by James Milner in the 79th minute following a challenge by Mbiwa that left him needing several minutes of treatment on the pitch before being stretchered off.
It has since been announced that the Frenchman will face up to eight weeks on the side-lines after suffering a partially ruptured knee ligament.
Mbiwa was only given a yellow card for his challenge but Nasri's father, Abdelhamid, told to French newspaper Le Parisien that the Magpies defender did it on purpose.
"He did it nastily, the boy was beaten first time and did it with the second challenge. And it wasn't to try and get the ball back where he hit... It's just gratuitous nastiness.
It's so disappointing. If you don't want to let him get past, you pull his shirt, you hold your opponent back, but you don't attack his legs, they're a player's worktools. I hope we'll be able to banish such tackles from stadia," Nasri's father added.
Despite initial reports suggesting Nasri could miss the remainder of the season, worries of the Frenchman missing the World Cup have been slightly allayed after learning he will face two months out.
"I've spoken to Samir on the phone. The disappointment has subsided a little. I tried to keep it inside, and he did as well. Samir will have an scan on Monday. We'll then have a precise diagnosis. He's afraid of a long-term injury which will end his season and his dreams of the World Cup
But after taking a step back to think about it, and with certain signs, he thinks it might just be a severe twist. If the meniscus is damaged, he'll be out two months, which isn't enormous. In that case, it could have been much worse and he'll even be able to take a breather and recharge his batteries. He's trying to keep things in perspective."
After the game, Newcastle boss Alan Pardew defended Mbiwa's challenge and claimed that he did not injure Nasri deliberately.
"He wouldn't have wanted to hurt Nasri. He is not like that and I hope Nasri is OK."