Samsung Ativ Range of Windows 8 Tablets Introduced
Samsung has introduced three Ativ Windows 8 tablets - the Ativ Smart PC, Ativ Smart PC Pro and Ativ Tab - which will use the S Pen Wacom digital stylus, keyboard dock and a range of Intel and ARM-based processors.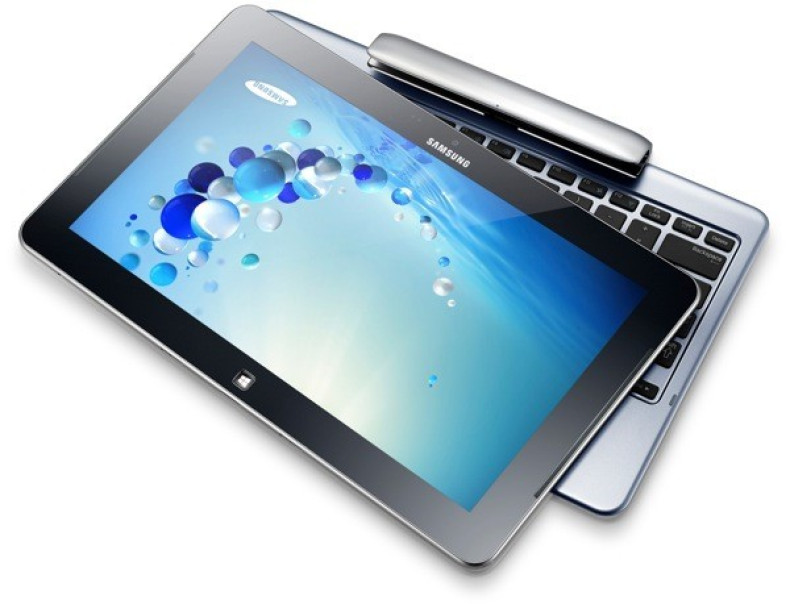 Along with introducing us to the larger-than-life Galaxy Note 2 with its 5.5in screen, and its Android-based Galaxy Camera, Samsung has also introduced its Ativ family of devices based on Windows 8 and Windows Phone 8.
We've already looked at the Samsung Ativ S smartphone which is the first Windows Phone 8 smartphone to be announced, but Samsung has also introduced three tablets which will run Windows 8.
The name Ativ, according to Samsung, is "the reverse order of Vita meaning 'Life' in Latin, is a pledge by Samsung to make everyone's life easier." We wonder would Samsung have simply called the range Vita had Sony not got there with its PlayStation Vita handheld console.
The naming conventions get even more convuluted when you realise that in the US, the Ativ Smart PC and Smart PC Pro will be called the Series 5 and Series 7, but then again technology companies never made things easy for customers.
Samsung Ativ Smart PC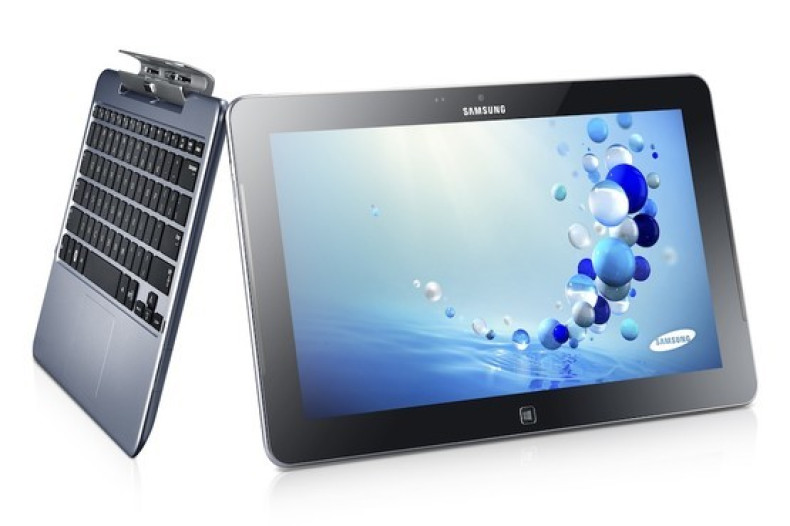 The Ativ Smart PC is a hybrid notebook/tablet in the mould of the Asus Transformer range.
The main part of the Smart PC is the 11.6in tablet, which uses PLS LCD technology with a resolution of 1366 x 768.
Samsung are promising up to 13.5hrs of battery life, which sounds impressive, and is in part thanks to the use of the low-power Intel Atom chip powering the tablet.
Measuring 304 x 189 x 9.9mm and weighing 750g, the tablet is certainly heavier than a typical Android tablet, though that extra screen real estate was bound to add a few grams.
The tablet, which comes in a blue colour, will run a full version of Windows 8 and will come with 2GB of RAM and 128GB SSD storage. In terms of connectivity, you'll get two USB 2.0 ports, mini HDMI port and a microSD card.
As with what seems like all new Samsung products, like the Galaxy Note 10.1 and Note 2, the Ativ Smart PC will come with the S Pen, the Wacom digitizer pen capable of recognising 1,024 levels of pressure.
The keyboard dock is just that, adding little other than the proper tying experience to the tablet interface. The keyboard dock, which uses a latch to connect to the tablet, does however add a couple of extra USB 2.0 ports.
Pricing for the UK has yet to be announced, but as a guide, in the US the Ativ Smart PC/Series 5 will cost $649 without keyboard dock, and $749 with it, launching on 26 October.
Samsung Ativ Smart PC Pro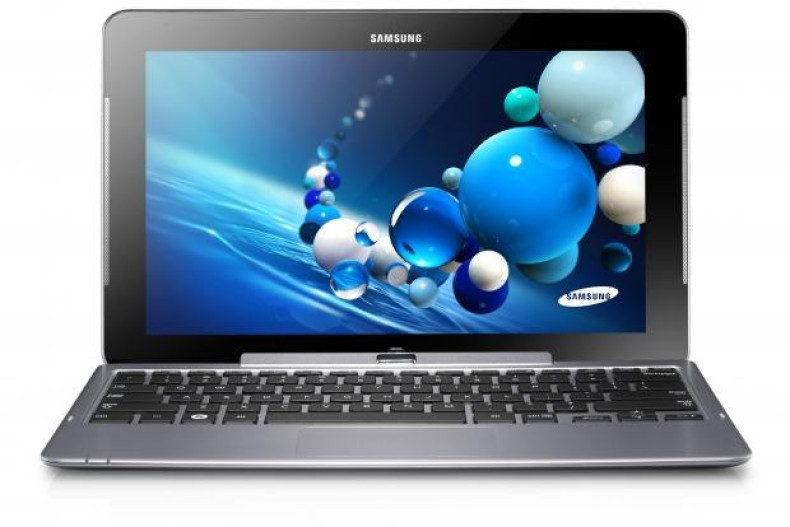 The Ativ Smart PC Pro looks almost identical to the Ativ Smart PC, with the main difference being inside. The Smart PC Pro is is powered by the latest generation of Core i5 processors from Intel and comes with 4GB of RAM.
While this might bring performance benefits, it does mean battery life suffers, with Samsung claiming 8 hours of general use or 5 hours of video playback.
The Smart PC Pro is also 2mm thicker at 11.9mm and comes in black rather than blue. The extra millimetres add to the tablet's weight, with the Smart PC Pro weighing in at a tubby 884g.
The 11.6in screen also features a higher resolution, of 1920 x 1080, and again uses the PLS LCD technology. The tablet has front (two megapixel) and rear (five megapixel) cameras.
Another upgrade with the Ativ Smart PC Pro is the inclusion of two faster USB 3.0 ports.
Again the S Pen is included and the same keyboard dock is available and this, along with the Ative Smart PC will be available on Windows 8 launch day of October 26.
Again US pricing has been announced with a set-up with keyboard dock and 128GB SSD costing $1,119 but we await UK pricing.
Samsung Ativ Ta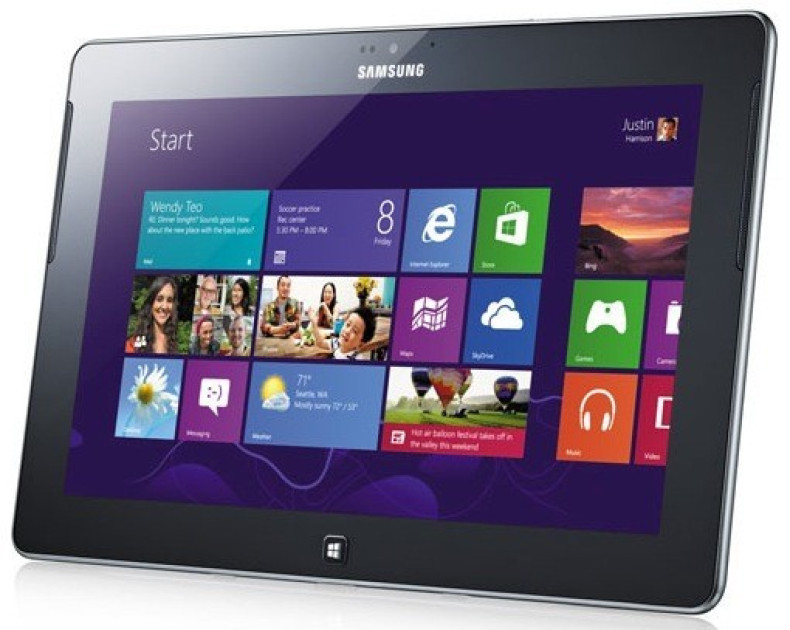 The Samsung Ativ Tab is the company's Windows 8 tablet running the touch-optimised version of the new operating system, called Windows RT.
The Ativ Tab features a 10.1in display, is just 8.9mm thick and weighs just 570g. As well as Windows RT, the tablet will come pre-loaded with Microsoft Office Home and Student 2013 RT preview.
The tablet will be powered by a dual-core 1.5GHz ARM-based processor and comes with a front (1.9 megapixel) and rear (five megapixel) camera.
Samsung didn't reveal too much more information about the Ativ Tab but did add that it would come with USB 2.0 and uHDMI ports to connect printers, keyboard, projectors and external monitors.
Samsung didn't mention a specific release date or pricing, though we will have to wait until 26 October at the very least.